This tom yum noodle soup is an easy, slightly heartier take on the Thai classic. Perfectly cooked shrimp, mushrooms, and al dente rice noodles in a slightly sour, spicy coconut broth. You'll be ladling out seconds in no time.
Homemade Tom Yum Noodle Soup
The spice from ginger and jalapeño, the tang of lime and lemongrass, and the subtle creaminess of coconut milk. It all comes together into one beautiful broth loaded with tender rice noodles, succulent shrimp, and earthy mushrooms. Served hot with a glass of Thai iced tea, this soup is the perfect lunch or dinner for those seeking an extra unique flavor.
This tom yum soup recipe is beautifully simple and, when done just right, will make you think you stepped straight off a plane and into Thailand's vibrant culinary culture. The balance between the sour, spicy, and savory elements makes Tom Yum a favorite among many who enjoy Thai cuisine, and with this recipe, you're just 35 minutes away from eating it.
Why You'll Love This Recipe
This quick, easy, wonderfully flavorful tom yum soup recipe has much going for it.
Flavorful. Bright, sour, and just the right amount of spicy, this soup is loaded with perfectly balanced flavors that will wake up your taste buds.
Filling. Some soups fall short of a full meal, leaving you hungry for more. On the other hand, this one is quite filling and full of lean protein, some veggies, and just the right amount of carbohydrates to keep you going. It makes for a wonderful lunch or light dinner.
Surprisingly simple. Preparing a dish from another culture can seem intimidating, but this recipe makes it easy. In just a few simple steps and 35 minutes, you'll sit down to a meal giving your favorite Thai restaurant a run for its money.
What Is Tom Yum Soup?
Tom yum is a popular Thai soup. It starts with a sour, slightly spicy base of lemongrass, garlic, chili peppers, kaffir lime leaves (lime is an acceptable substitute), and more. A broth (usually chicken or seafood stock, coconut milk, or water) is added to the base along with veggies and, usually, a protein. It's a wonderfully flavorful soup that's surprisingly easy to make.
I broke the rules and added noodles to this tom yum to make it a fuller meal. Traditionally, tom yum soup does not contain noodles and is served as part of a larger meal with white rice and various other Thai favorites.
Recipe Ingredients
Gather your ingredients and get ready to make this flavorful, Thai-inspired soup.
Olive oil
Yellow Onion, Lemongrass, Garlic
Fresh ginger: You can use ground ginger instead. Stir it into the veggies just before you add the lime juice, chicken stock, and coconut milk.
Jalapeno: I recommend seeding the jalapeno but leave the seeds in if you want some extra spice.
Lime juice & Chicken Stock
Coconut milk: I like full-fat coconut milk here. It adds a richer flavor.
Mushrooms: Shiitake mushrooms are my favorite but white mushrooms or baby bellas will work too.
Shrimp
Rice noodles: Pad Thai noodles are a great way to go but any long satay noodle will work.
How to Make Tom Yum Soup
Here's a quick look at how to make tom yum noodle soup. For more detailed instructions, scroll to the recipe card at the bottom of this post.
Get the flavors going. In a large pot, sauté the onions in olive oil before adding the lemongrass, garlic, ginger, and jalapeno. Sauté until fragrant.
Make the broth. Add the lime juice, chicken stock, and coconut milk and bring to a boil. Lower the heat and simmer for 20 minutes. Remove the lemongrass and add the mushrooms, shrimp, and noodles. Simmer until the noodles have softened.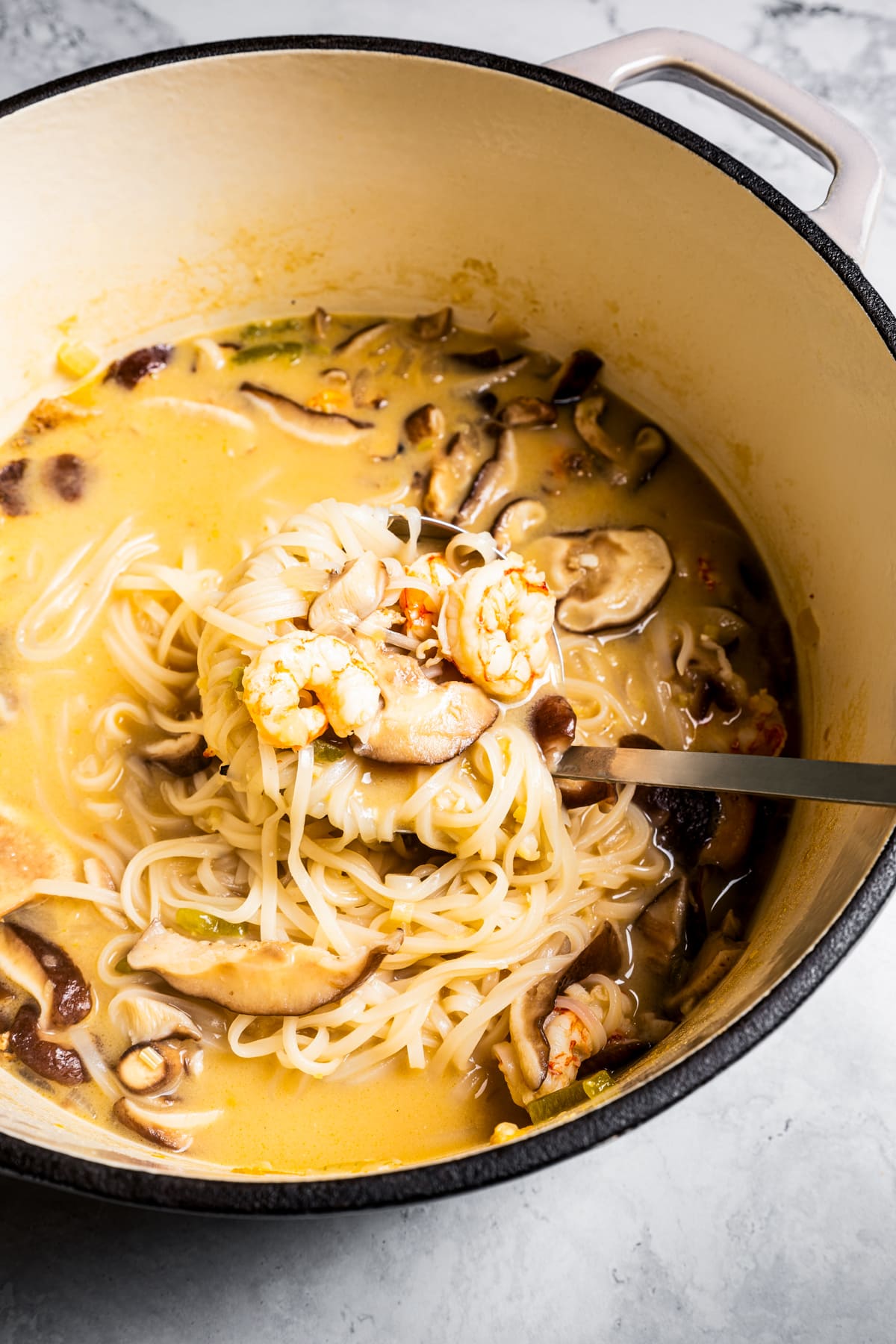 Tips for Success
This tom yum soup recipe is quick and straightforward. I have every faith that you will be able to execute it beautifully. Here are a few simple tips and tricks to help set you on the right path.
Remove the lemongrass. Don't forget to remove the lemongrass from the soup. It does a wonderful job of imparting flavor to the broth but it is not fun to chew through. So pull it out before adding the mushrooms, shrimp, and noodles.
Adjust your spice level. Some people like their tom yum noodle soup super spicy. Others like it mild. This recipe calls for one whole seeded jalapeño. If you want more spice, leave the seeds in (or use a second jalapeno). If you are sensitive to spice, use only half of the chili or leave it out altogether.
Don't overcook the noodles. Watch the noodles closely because they cook quickly. Once they have reached an al dente texture, remove the soup from the heat and serve. Otherwise, you risk mushy noodles.
What Goes with Tom Yum Noodle Soup?
How to Store and Reheat Extras
Refrigerator. For the fridge, let the tom yum soup cool before storing it in an airtight container. It can stay in the fridge for up to 3 days. Reheat it on the stove or in the microwave.
Freezer. For the freezer, once the soup cools down, seal it in an airtight container. It can stay frozen for up to 3 months. Thaw in the fridge before reheating.
More Easy Soups to Try
Delicious, heartwarming soups seem to please over and over again. At least in my household. So here are some fan favorites for you to dip your spoons into.
Sauté the veggies. Heat the olive oil in a large, heavy-bottomed pot over medium-high heat. Add the onion and sauté for 2 to 3 minutes or until translucent. Add the lemongrass, garlic, grated ginger, and jalapeno. Sauté for 1 minute or until fragrant.

Make the broth. Add the chicken stock, coconut milk, and lime juice. Increase the heat to high and bring to a boil. Reduce the heat to low and simmer for 20 minutes.

Use a large sieve to fish out the lemon grass. Discard the lemongrass.

Finish it off. Stir in the mushrooms and the noodles. Simmer for about 6 minutes. Stir in the shrimp and cook for 2 to 3 more minutes or until the shrimp is cooked through.

Serve. Remove from heat and serve warm in bowls.
Jalapeno: Adjust the amount of jalapeno to your taste. 
Noodles: Use your favorite kind of noodles. Rice noodles are common, but you can also use egg noodles, udon, or ramen noodles.
Protein: You can use shrimp, chicken, tofu, or fish.
Ginger: If you use ground ginger, you will need about 3/4 teaspoons of it.
Vegetables: You can add a variety of vegetables to your soup. Popular choices include mushrooms, tomatoes, and onion.
Balance of Flavors: Tom Yum soup should balance spicy, sour, and savory flavors. Taste your soup and adjust the seasoning as needed.
Serving: Serve the soup hot, with fresh herbs like cilantro and lime wedges on the side. You can also serve it with a side of steamed rice to make it a complete meal.
Serving: 1.5 cups | Calories: 480 kcal | Carbohydrates: 57 g | Protein: 12 g | Fat: 23 g | Saturated Fat: 14 g | Polyunsaturated Fat: 1 g | Monounsaturated Fat: 6 g | Cholesterol: 10 mg | Sodium: 555 mg | Potassium: 653 mg | Fiber: 1 g | Sugar: 6 g | Vitamin A: 26 IU | Vitamin C: 7 mg | Calcium: 40 mg | Iron: 3 mg | Net Carbs: 56 g
Nutritional info is an estimate and provided as courtesy. Values may vary according to the ingredients and tools used. Please use your preferred nutritional calculator for more detailed info.