This one-skillet steak with mushroom sauce is the best way to turn simple ingredients into a flavor-packed, restaurant-quality steak dinner in under 30 minutes!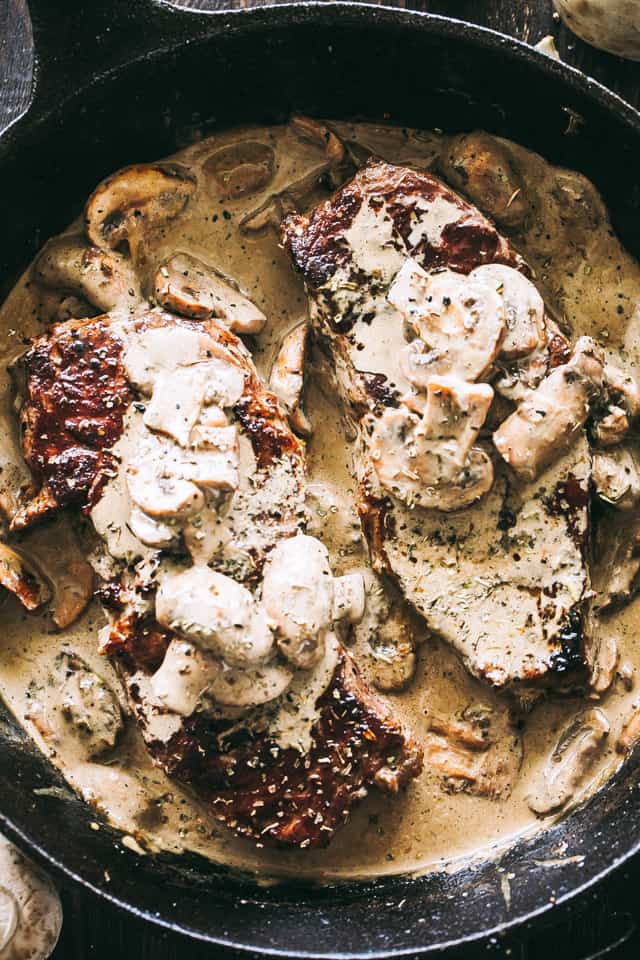 This easy Steak With Mushroom Sauce recipe is made with tender sirloin steak pan-seared to a caramelized perfection and smothered in a creamy sauce with portobello mushrooms, all in one pan.
Why You'll Love This Steak Recipe
One skillet. The sirloin steak and the mushroom sauce are cooked in the same skillet.
Creamy sauce. This is the best mushroom sauce for steak – it's rich, velvety, and so delicious.
Quick. Pan-searing is the best and quickest way to cook a steak that's juicy with a caramelized crust.
Ingredients For Steak With Mushroom Sauce
For the Steaks: top sirloin steaks, coarse salt, fresh ground black pepper, butter, Italian seasoning, and garlic.
For the Mushroom Sauce: baby portobello mushrooms, beef or chicken broth, heavy cream, salt, pepper, and parsley.
How to Make Steak With Mushroom Sauce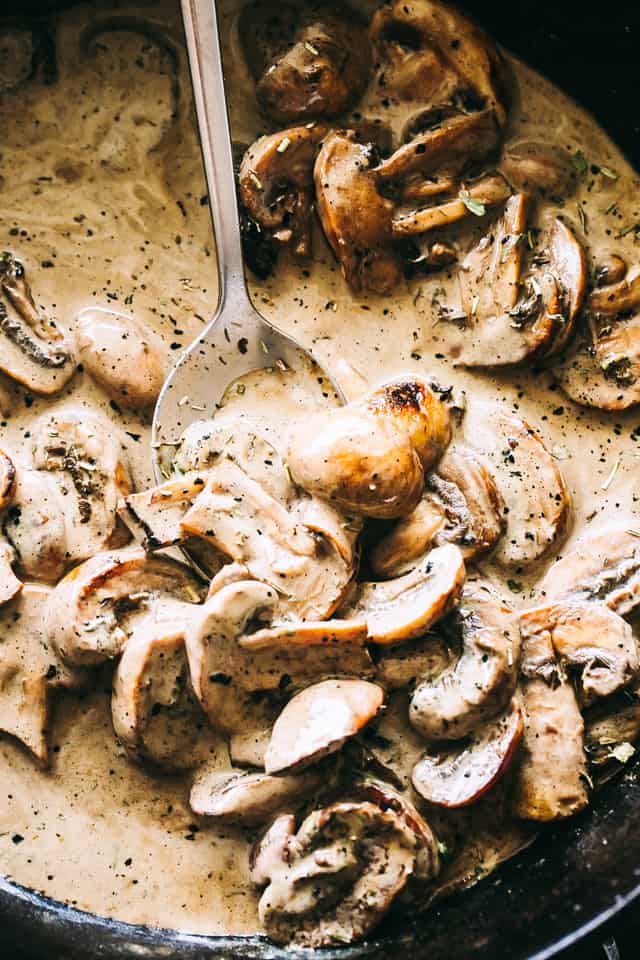 Sear the steaks. Start by melting butter in a skillet with Italian seasoning and smashed garlic. Once melted, add the steaks to the pan to sear for 3 to 4 minutes per side or until they're done to your liking.
Cook the mushrooms. Remove the steaks, and add additional butter to the skillet. Add your sliced mushrooms, season, and sauté until they're softened.
Make the sauce. Next, add the broth, followed by the cream, and cook until the sauce has heated through.
Serve! Plate up your steaks and spoon over a generous amount of mushroom sauce. Give them a sprinkle with parsley for garnish, and serve.
Steak Temperature Guide
The easiest way to tell a steak's doneness is to check the internal temperature using an instant-read thermometer. Here are some easy guidelines to follow:
125ºF for Rare: Soft to the touch, and an indent remains when you gently press the top of the steak.
135ºF for Medium Rare: Soft but a little springy.
140ºF for Medium: Tighter and springy when pressed.
160˚F for Well Done: Steaks will be firm to the touch.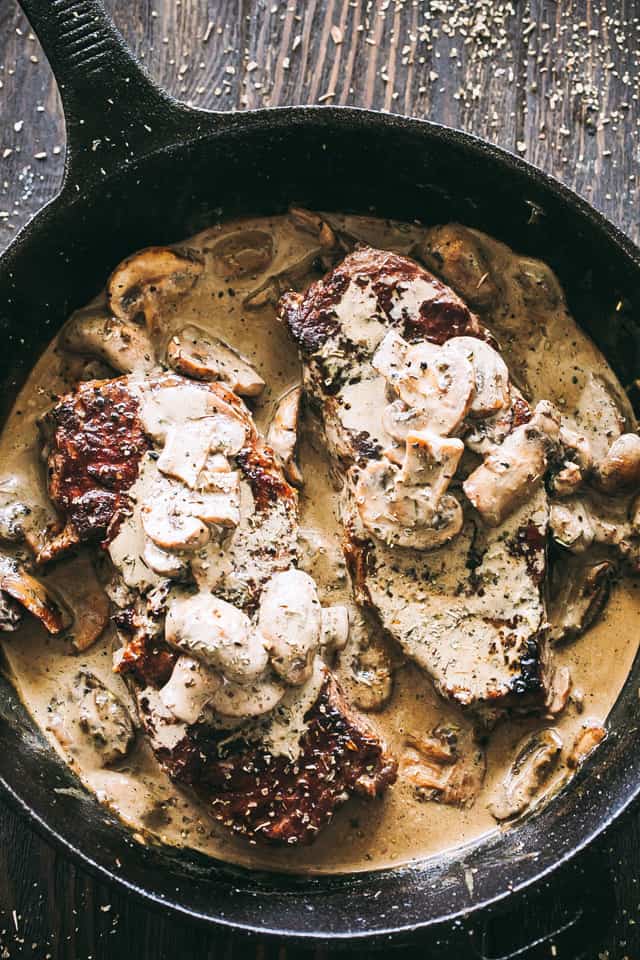 Recipe Tips
Steak Cuts: For this recipe, I recommend choosing a top sirloin steak. Other good options are ribeye or New York strip steak. 
Mushrooms: I use baby portobello mushrooms, but button mushrooms, shiitake, or oyster mushrooms are also good options.
Skillet: A cast-iron skillet is the ultimate tool for cooking steak, but a frying pan works, too.
Preheat the pan. The secret to a perfect sear is a hot pan and melted butter before you add in your steaks.
Don't crowd the steaks. Cook one to two steaks at a time, and don't overcrowd the skillet. The meat needs space so that it can sear and not steam.
Let the steak rest. Rest the steak – this allows the juices to redistribute.
What To Serve With Steak
Serve this saucy steak with a side of asparagus with lemon butter sauce or garlicky sautéed broccolini. For a steakhouse-style dinner, serve it with a baked potato or a plate of roasted sweet potato wedges on the side. Include a fresh chef salad or this lemon kale Caesar Salad.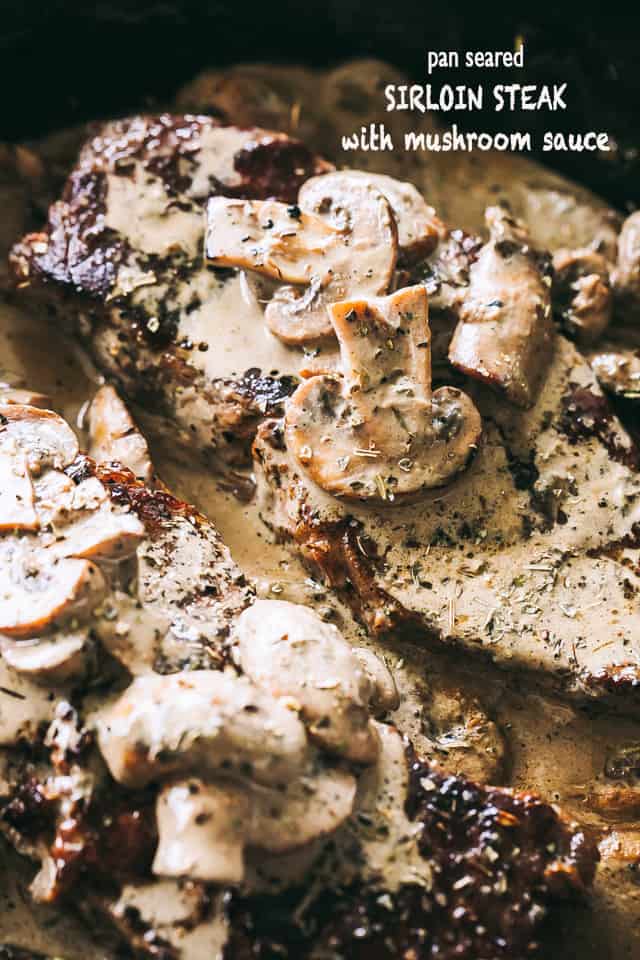 Storing Leftovers and Reheating
Store leftovers in an airtight container and refrigerate for up to 3 days or freeze for up to 3 months. Thaw before reheating.
More Steak Recipes to Try
For the Steaks
Season the steaks with salt and pepper.

Add 2 tablespoons butter, Italian Seasoning, and smashed garlic cloves to a cast iron skillet and melt over medium-high heat.

Add the steaks to the hot skillet and cook until brown and cooked to desired doneness, about 3 to 4 minutes per side for medium-rare. Do not crowd the skillet – cook the steaks one to two at a time.

Remove the steaks from the skillet, set aside, and keep covered.
For The Mushroom Sauce
In the same skillet, add the remaining 2 tablespoons butter and melt over medium-high heat.

Stir in the sliced mushrooms and season with salt and pepper; cook for 2 to 3 minutes or until just tender. Pour in the beef broth and let cook for another minute.

Add half-and-half and continue to cook for 2 more minutes or until heated through.

Plate the steaks and top with mushroom sauce.

Garnish with dried parsley and serve.
Steak Cuts: Use top sirloin, ribeye, or New York strip for this recipe.
Room Temperature Steaks: For even cooking, inside and out, take the steaks out of the fridge 20 minutes before you cook them.
Mushrooms: Baby portobello mushrooms are my go-to, but button, shiitake, or oyster mushrooms work well too.
Skillet: Cast-iron skillets are best for steak, but a frying pan can do the job.
Preheat: For the perfect sear, ensure your skillet is hot before cooking the steak.
Avoid Overcrowding: Sear just one or two steaks at a time to give them space to sear rather than steam.
Rest the Steak: Give your steak time to rest after cooking, allowing the juices to redistribute.
Calories: 341 kcal | Carbohydrates: 6 g | Protein: 28 g | Fat: 22 g | Saturated Fat: 13 g | Cholesterol: 119 mg | Sodium: 194 mg | Potassium: 701 mg | Fiber: 1 g | Sugar: 1 g | Vitamin A: 565 IU | Vitamin C: 1.5 mg | Calcium: 105 mg | Iron: 2.2 mg
Nutritional info is an estimate and provided as courtesy. Values may vary according to the ingredients and tools used. Please use your preferred nutritional calculator for more detailed info.