This creamy stovetop Green Bean Casserole is so easy and irresistibly delicious. Tender green beans and sautéed mushrooms are coated in a rich, bubbly, cheesy mushroom gravy and topped with crispy fried onions for the perfect no-fuss Thanksgiving side.
If you're looking for a great green bean casserole recipe, look no further. Loaded with golden-brown sauteed mushrooms and crisp yet tender green beans and topped with perfectly crispy fried onions, it really is the savory treat of the season. Do yourself a favor and give it a spot on your holiday menu.
Why You'll Love This Green Bean Casserole
Classic comfort food. This green bean casserole screams warm, cozy holiday comfort due to the deep, savory, umami flavors.
Texture. The rich creaminess of the mushroom gravy next to the crispiness of the green beans and the crunch of the fried onions makes for a wonderfully dynamic textural contrast that will surely delight your senses.
Make ahead miracle. This recipe does great in the fridge and the freezer. You can make it days or even weeks ahead of time.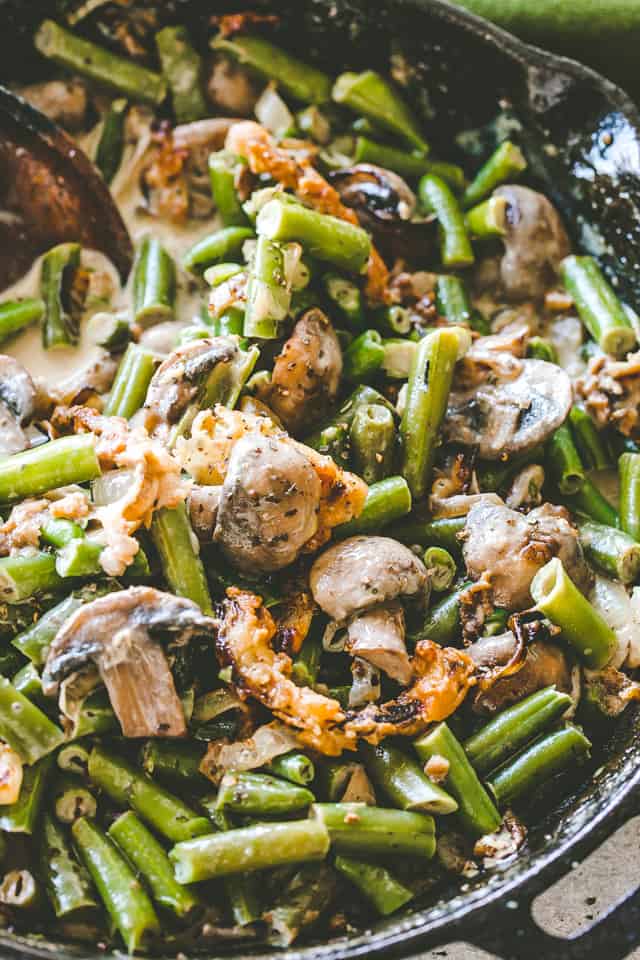 Ingredients You'll Need
Butter
Veggies – Yellow onion, garlic cloves, and cremini mushrooms.
Seasonings – Salt, fresh ground black pepper, and fresh thyme.
All-purpose flour
Low-sodium vegetable broth – You can use chicken broth instead if you'd like.
Half & Half – Heavy Cream will also work for a richer casserole.
Parmesan – I recommend using freshly grated parmesan.
Ground nutmeg
Frozen green beans – You'll need to thaw them at room temperature and drain any excess liquid before adding them to the casserole. You could use fresh green beans. You'll just need to trim them first.
How to Make Green Bean Casserole
This is the best green bean casserole there is, at least in my opinion, but I bet you'll be saying the same thing once you try it yourself.
Prep. Preheat the oven to 375°F.
Saute the veggies. Heat a large skillet over medium heat and melt the butter. Add the onions and saute until tender. Add the garlic and then the mushrooms, season with salt, pepper, and thyme, and saute for 8 minutes.
Make the gravy. Add the flour to the veggies and cook for 1 minute. Whisk together the broth, half and half, parmesan, and nutmeg, and stir it into the veggies. Bring the mixture to a boil, reduce it to a simmer, and cook until thickened.
Cook the green beans. Stir in the green beans and cook until tender.
Bake. Transfer the contents to a baking dish and bake for 20 minutes. Sprinkle the fried onions over the top and bake for an additional 5 minutes.
Rest. Allow the casserole to stand for 5 minutes before serving.
Recipe Tips For Success
Say no to canned green beans. They may seem convenient but you'll end up with a mushy, overly salty mess of a casserole.
Patience. Once you add the broth, half and half, parmesan, and nutmeg, you'll want to let the casserole filling simmer until it's nice and thickened. Be patient. If you try to cut corners, you'll end up with a watery casserole.
Make your own fried onions. The store-bought ones are pretty great…but my French "Fried" Onions are better. If you have the time, do your taste buds a favor and give it a whirl. Note that the fried onions will get soggy as they sit with the casserole in the fridge, so it's best to enjoy this green bean casserole sooner rather than later.
Serving Suggestions
This classic green bean casserole can be served anytime with your favorite roasted chicken or chicken stuffing casserole. I love serving it with roasted turkey or prime rib, along with many other holiday sides.
Can I Make Green Bean Casserole in Advance?
You can! Assemble the casserole just as you normally would (do not add the onions). Instead of popping it in the oven, allow it to cool completely and wrap it tightly with a layer of plastic wrap and then aluminum foil. You can store it in the fridge for up to 3 days or in the freezer for up to 3 months. When you are ready to serve, allow the casserole to thaw in the fridge (if applicable), let it sit out at room temperature for 30 or so minutes, and then bake as prescribed (don't forget to add the fried onions in the last 5 minutes).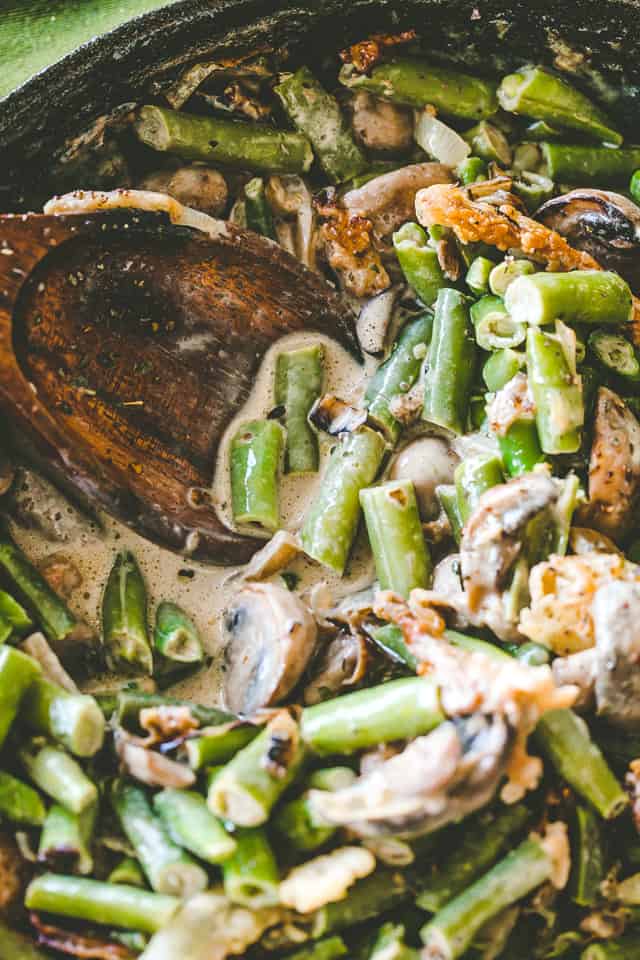 How to Store & Reheat Leftovers
To store. Once the casserole has cooled completely, wrap it tightly in plastic wrap or transfer it to an airtight container. You can store it in the fridge for up to 4 days* or in the freezer for up to 3 months.
To reheat. Bake the casserole at 350°F, covered, for 20 minutes or until heated through. You can uncover it during the last 5 minutes to restore the crisp to the fried onions.
More Holiday Side Dishes
Contemplating what to serve with your holiday turkey aside from this awesome green bean casserole? Here are a few mouthwateringly delicious options for you.
Preheat oven to 375˚F.

Melt butter in a large skillet or Dutch oven over medium heat. Add the onions and cook for 3 to 4 minutes or until softened. Stir in garlic and continue to cook for 15 seconds.

Add mushrooms and season with salt and pepper; stir in thyme leaves and sauté for 8 minutes, or until liquid has evaporated.

Sprinkle with flour; cook and stir for 1 minute.

In a mixing bowl, whisk together the broth, half and half, parmesan cheese, and nutmeg.

Add the half-and-half mixture to the skillet; bring it to a boil, then reduce heat to medium-low and simmer for 5 minutes or until thickened.

Add the green beans to the mushroom sauce and cook for 8 to 10 minutes or until the green beans are tender.

Transfer everything to a 9×13 baking dish and bake for 20 to 25 minutes or until bubbly.

Add fried onions on top and continue to bake for 5 more minutes, or until browned on top.

Remove from oven and let stand for 5 minutes.

Serve.
Opt for fresh or frozen green beans over canned ones. While canned beans might be quick, they often lead to a casserole that's too soft and excessively salty.
Allow time for thickening. After adding the broth, half and half, parmesan, and nutmeg, let the mixture simmer to achieve the right consistency. Rushing this step can result in a runny casserole.
Consider homemade crispy onions. While pre-made ones are convenient, creating your own French 'Fried' Onions can elevate the dish. If you can spare the time, it's worth the effort for an enhanced flavor. Also, keep in mind that fried onions tend to soften in the fridge, so it's best to enjoy the casserole fresh.
To Make Ahead: Assemble the casserole without the onion topping; let completely cool. Wrap with plastic wrap and aluminum foil and refrigerate for up to 3 days. When ready to serve, remove from the refrigerator while the oven preheats. Bake as directed.
To Freeze: Assemble the casserole without the onion topping; let completely cool. Wrap with plastic wrap and aluminum foil and freeze for 2 weeks and up to 1 month. When ready, take it out of the freezer the night before and thaw it out in the fridge. The next day, bring the casserole to room temperature and continue to bake it as directed.
Calories: 171 kcal | Carbohydrates: 18 g | Protein: 4 g | Fat: 6 g | Saturated Fat: 5 g | Cholesterol: 17 mg | Sodium: 425 mg | Potassium: 480 mg | Fiber: 3 g | Sugar: 5 g | Vitamin A: 1155 IU | Vitamin C: 16.3 mg | Calcium: 77 mg | Iron: 1.5 mg
Nutritional info is an estimate and provided as courtesy. Values may vary according to the ingredients and tools used. Please use your preferred nutritional calculator for more detailed info.