Making mashed potatoes at home is easy, yet with some subtle tweaks, they can go from good to extraordinary! My Garlic Rosemary Mashed Potatoes are creamy and cheesy and are the fluffiest and most delicious mashed potatoes.
Mashed potatoes are the quintessential comfort food and hold a special place in many hearts. For something as straightforward as mashed potatoes, I've had my fair share of some real duds – bland and pasty and gluey. We deserve better! So, I just had to hit you up with this fantastic recipe packed with buttery richness, tangy sour cream, hints of garlic and herbs, and parmesan cheese.
Why I Love This Recipe
Creamy textured mashed potatoes thanks to the sour cream, which results in a smooth consistency.
Rich and flavorful is what you get when you add butter, garlic, and herbs to infuse the potatoes.
Cheesy goodness because the parmesan adds a hint of salty and nutty flavor, complementing the bland potato.
Easy prep with common ingredients and super easy steps, this side dish is within everyone's reach.
Ingredients For Mashed Potatoes
Russet Potatoes should be peeled and cut into wedges.
Butter adds creamy richness.
Fresh Garlic injects a punch of flavor.
Fresh Rosemary
Shredded Parmesan cheese gives a salty, nutty layer to the potatoes.
Sour cream will result in a creamy, tangy texture.
Salt and fresh ground black pepper for seasoning to enhance the overall taste.
Which potatoes work best for mashed potatoes?
While various potatoes bring unique textures and tastes to the table, Russet or Yukon gold potatoes are top choices for classic fluffy mashed potatoes.
How To Make Mashed Potatoes
Boil the potatoes. Place the potato wedges in a large pot, covering them with cold water. Simmer over medium heat for 15 to 20 minutes or until they're fork-tender. Drain the potatoes and set aside.
Melt and infuse the butter. In the same pot, melt the butter and add garlic and rosemary. Cook over medium-low heat until the butter starts to brown. Discard the rosemary sprigs.
Combine the potatoes with the butter mixture. Season with salt and pepper and mix in the parmesan cheese and sour cream, mashing until creamy.
Taste and adjust with salt and pepper. For added creaminess, add a little more sour cream.
Recipe Tips
Salting Advice: Since parmesan is already salty, it's better to add salt after adding the cheese.
Flavor To Taste: Give them a taste before serving. You might need to add more salt and pepper or a drizzle of butter.
Texture Preference: Adjust the creaminess by playing around with the amount of sour cream.
Enhance Flavor: For an added depth of flavor, use roasted garlic instead of fresh.
Don't overmix: While mixing and mashing is essential to get that creamy texture, go easy on it. Overdoing the mashing will produce a dense, sticky mess.
Storing Leftovers: If you have any leftovers, refrigerate them in an airtight container for up to 2 days. When reheating, add a bit of milk to restore some of the creaminess.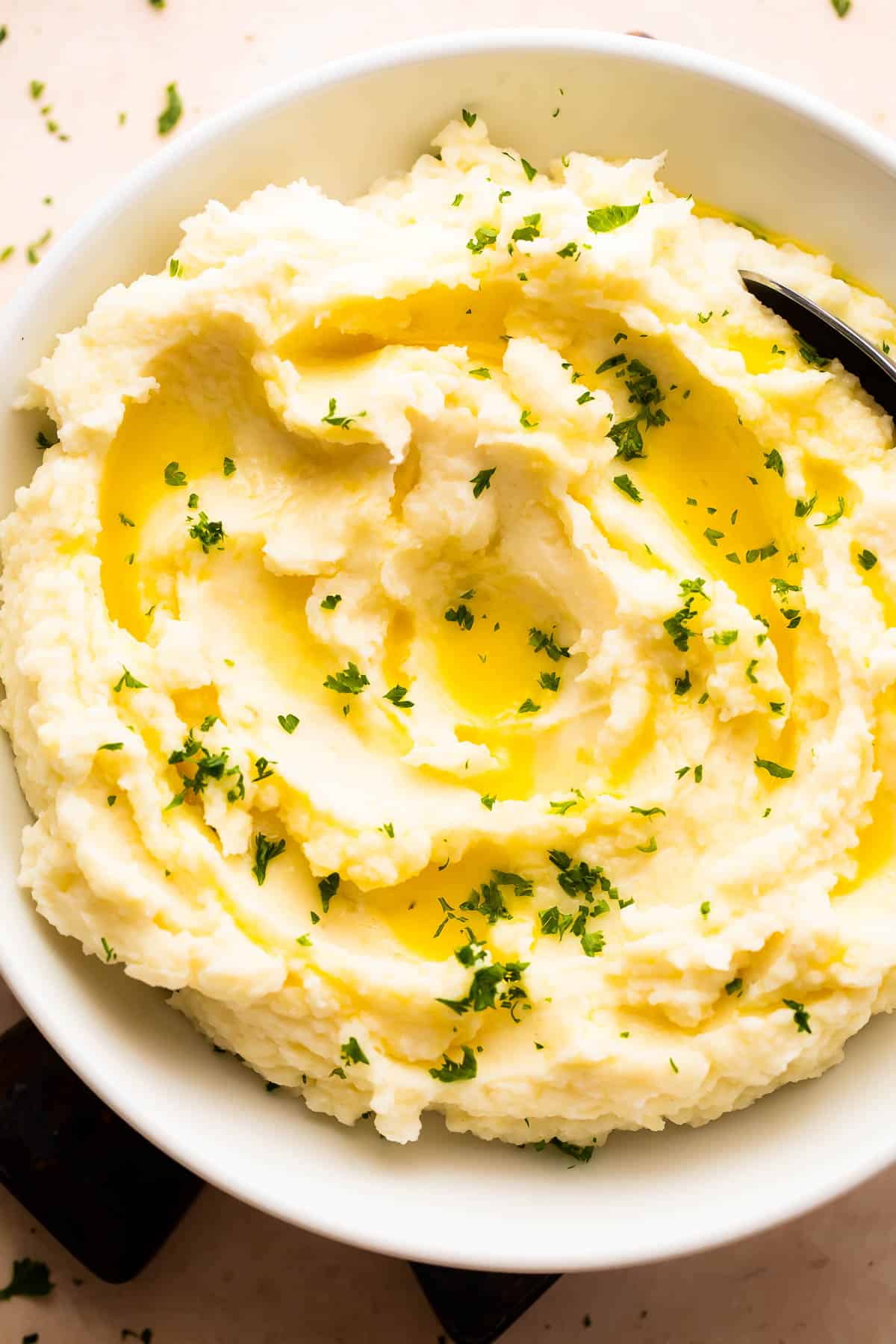 Serving Suggestions
When considering what to pair with mashed potatoes, this Rosemary Lemon Roasted Turkey is the star of any feast. Add a serving of Sweet Potato Cranberry Stuffing and this delicious Brussels Sprouts Salad. Also, my Sweet Potato Shepherd's Pie is an undeniable choice. And let's not forget the sips of a refreshing Spiked Apple Cider and maybe a few glasses of White Sangria. Indulge in Pumpkin Pie Cinnamon Rolls as a sweet side, or warm up with this Spicy Hot Chocolate Mocha.
ENJOY!
Add the potatoes to a large pot and cover them with cold water. Cook over medium heat and simmer the potatoes for 15 to 20 minutes or until fork tender. Drain when done.

In a deep pot (you can use the one you used for the potatoes), add butter, garlic, and rosemary sprigs. Cook over medium-low heat until the butter starts to brown. Remove from heat; then, remove the rosemary sprigs and discard.

Add the potatoes to the prepared butter and season with salt and pepper. Depending on the saltiness of the parmesan cheese you are using, you may want to wait to salt the potatoes until the end.

Add the parmesan cheese and sour cream to the potatoes; mash the mixture using a potato masher until smooth and creamy. Taste for salt and pepper and adjust accordingly. If you like the potatoes creamier, add more sour cream.

Serve.
Potatoes: Different types of potatoes yield different textures and flavors, but the best potatoes for traditional fluffy mashed potatoes are Russet or Yukon gold potatoes.

Salting:

 Given the parmesan's saltiness, consider seasoning with salt once the cheese is incorporated.

Taste As You Go:

Before serving the mashed potatoes, have a taste and adjust as needed.

Creaminess:

Feel free to tweak the amount of sour cream to get your desired consistency.

Mashing:

Aim for creaminess with your mashing, but remember that less is more. If you over-mash, it can make the mashed potatoes sticky and gluey.

Leftovers:

Store them in a sealed container in the fridge for 2 days. When warming them up, add a splash of milk to get some of that creaminess.
Calories: 168 kcal | Carbohydrates: 21 g | Protein: 6 g | Fat: 7 g | Saturated Fat: 4 g | Cholesterol: 20 mg | Sodium: 135 mg | Potassium: 717 mg | Fiber: 4 g | Sugar: 0 g | Vitamin A: 215 IU | Vitamin C: 19.1 mg | Calcium: 153 mg | Iron: 5.3 mg
Nutritional info is an estimate and provided as courtesy. Values may vary according to the ingredients and tools used. Please use your preferred nutritional calculator for more detailed info.