​You've got to try this delicious grilled fish recipe! A medley of smoky, savory, and fresh flavor is the perfect way to bring your favorite fish to life.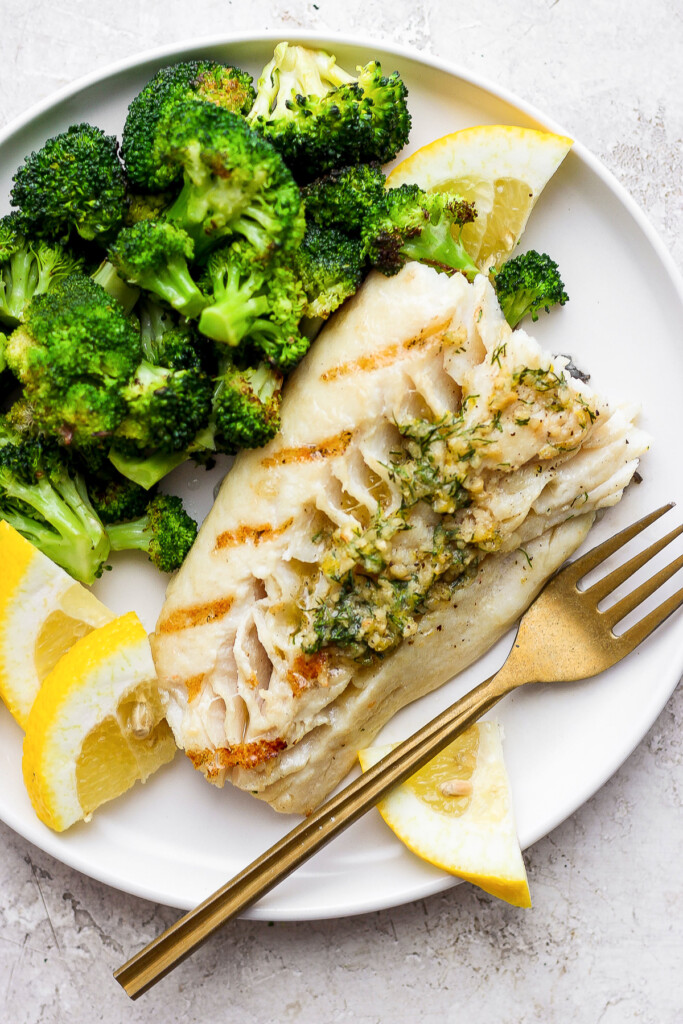 Delicious, Flaky Fish Cooked on the Grill
If you're a fish & seafood lover, today is your lucky day! We know you're already big fans of our grilled shrimp, but these grilled fish filets are going to be your latest and greatest obsession.
The fish first gets soaked in a bright marinade made of lemon, olive oil, and salt and is then grilled to perfection and dipped into dill butter for the most flavorful, delicate fish! 
Whether you have a charcoal grill, gas grill, or grill pan, you can make these fish fillets with no problem. Serve them up for a family gathering or a simple healthy dinner at home and they will be sure to impress. The smoky flavors from the grill combined with the freshness of the dill butter is a combination that can't be beat.
Why grill fish?
It's one of the healthiest ways to cook fish.
Gives the fish a delicious smoky flavor.
You get a nice crispy outer layer and soft, flaky flesh. 
Great when you're feeding a larger crowd!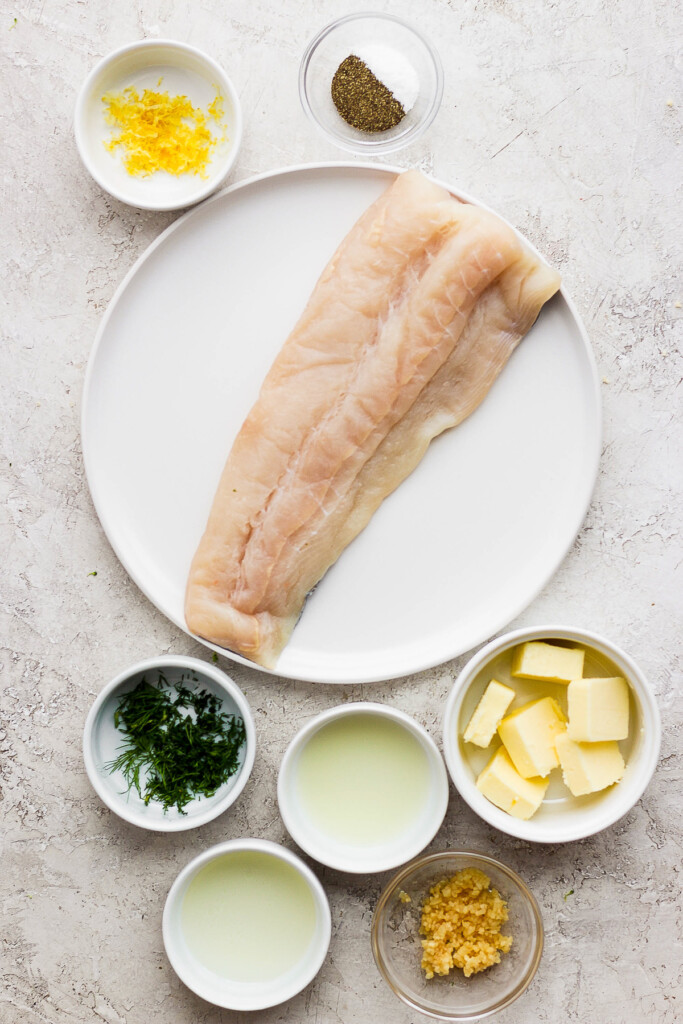 Recipe Ingredients
Lemon: we used fresh lemon juice and lemon zest to add brightness to this recipe.
Olive oil: olive oil is used in the marinade so that the fish has a richer taste and crispier outer layer.
Salt & pepper: kosher salt, flaky sea salt, and freshly cracked black pepper are all used in this recipe.
White fish filets: this recipe was tested with halibut and Mahi Mahi. Feel free to use tilapia, cod, sea bass, walleye, or red snapper. 
Butter: be sure to use salted and to soften it before use.
Fresh dill: dill is used in the dipping sauce for a wonderful fresh flavor.
Garlic: garlic makes anything taste better! Don't skip it.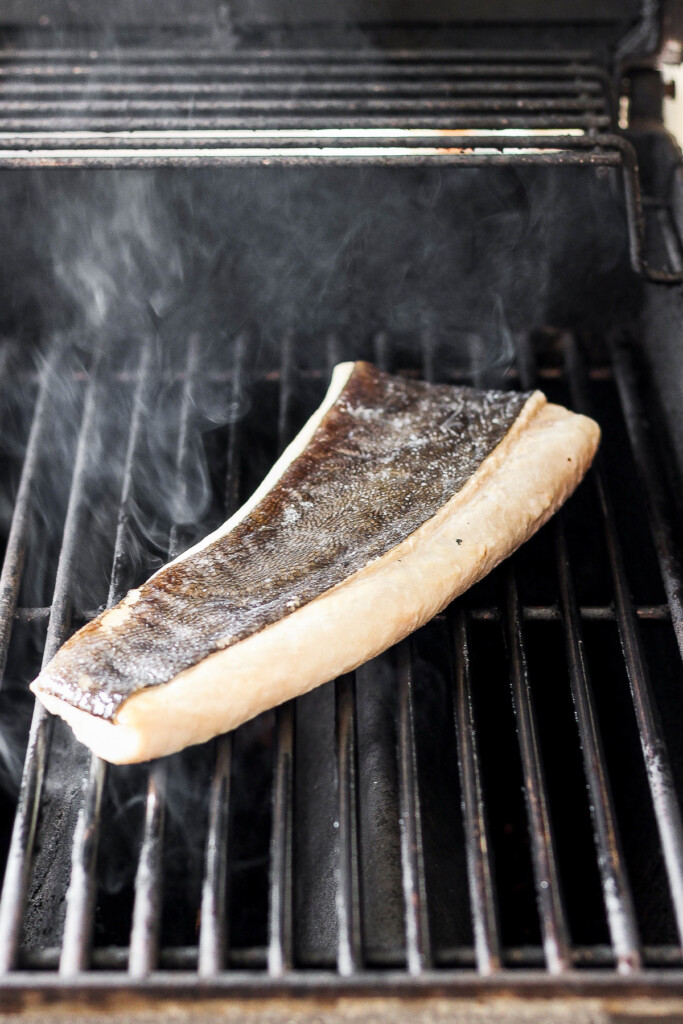 How to Make Grilled Fish
PREHEAT GRILL
Preheat the grill to 400ºF. Clean the grill grates or set a grill pan on the grill to heat up. 
MARINATE FISH
Next, whisk 1 tablespoon of lemon juice, 1 tablespoon of olive oil, and ½ teaspoon of salt together in a bowl. 
Place the fish filet in a baking dish and pour the lemon juice mixture over the fish. Brush the marinade evenly into the fish and let marinate for 15 minutes. 
PREPARE SAUCE
Use a hand mixer to whip the remaining salt with the butter, lemon zest, pepper, dill, and garlic until light and fluffy.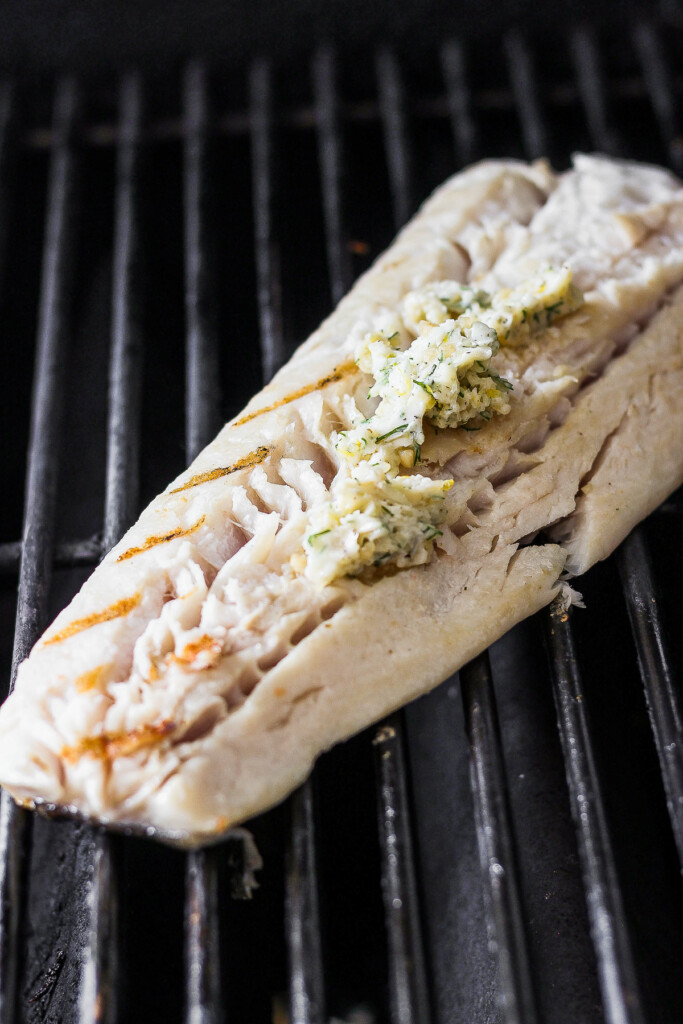 GRILL FISH
Grease the grill grates or grill pan, and then transfer the fish to the pan skin side up. Grill for 2-4 minutes. Then flip the fish and add 2-3 tablespoons of the butter mixture to the top of the fish. 
Grill for 2-4 more minutes or until the fish flakes easily with a fork. The internal temperature should be between 130ºF-135ºF.
Pro Tip: How long you grill the fish will vary depending on the thickness of the fish filet.  
ASSEMBLE + ENJOY
Remove the fish from the grill and top it with flakey sea salt and fresh dill. You also have the option to melt the remaining dill butter and use it as a dipping sauce for the fish. Enjoy!
Tips for the Best Fish on the Grill
Be sure your grill grates are clean:  Fish is notorious for sticking to the grill, so be sure to give your grates a good scrubbing with a metal grill cleaner before you begin.
Make sure you have your grill tools ready to go:  A good grill spatula and a pair of barbecue tongs are essential for flipping your fish without breaking it.
Don't put your fish on the grill cold: To reduce sticking and ensure even cooking, let your fish sit out on the counter for a few minutes before grilling.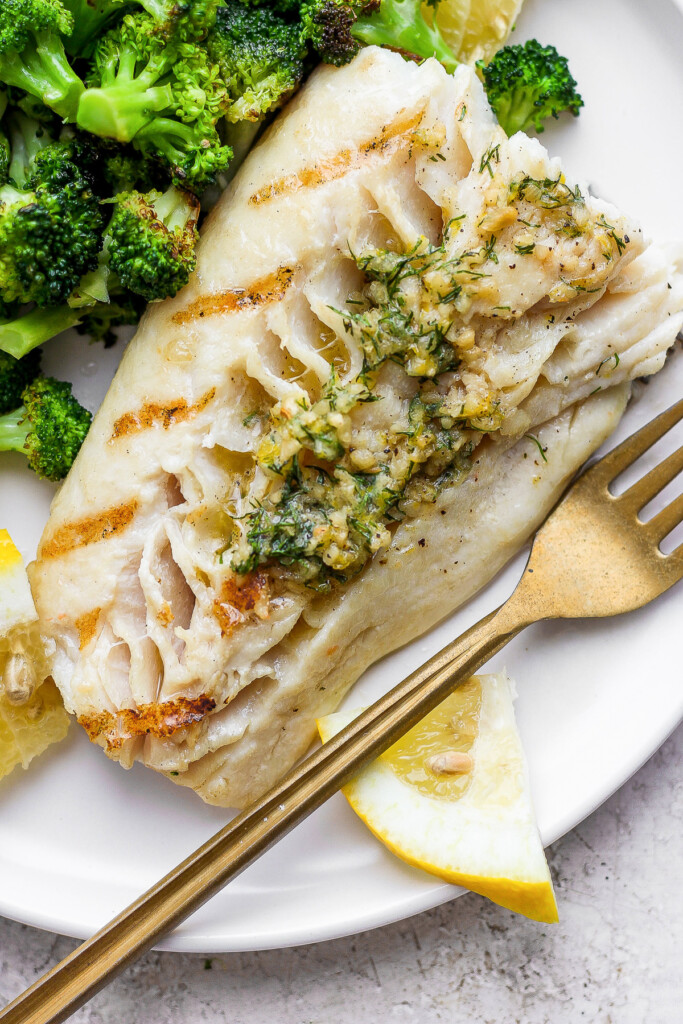 Serving Suggestions
Grilled fish can be served simply with lemon wedges, or you can dress it up with some freshly chopped herbs (parsley and chives are especially tasty).
However, if you want some delicious sides to pair with this fresh fish, try these great recipes out!
Storage
Store any leftover grilled fish in an airtight container in the fridge for up to 3 to 4 days.
To reheat, place the fish in a preheated oven at 350°F for about 10 minutes or until warmed through. Make sure to cover the fish with foil to keep it from drying out — fish cooks fast!
Can you freeze grilled fish?
Yes, you can freeze grilled fish. Wrap the leftovers in an airtight container or zip-top bag and store it in the freezer for up to 3 months. When ready to eat, thaw the fish overnight in the refrigerator before reheating.
To reheat from frozen, place the fish on a baking sheet and bake at 350°F for about 20 minutes or until warmed through.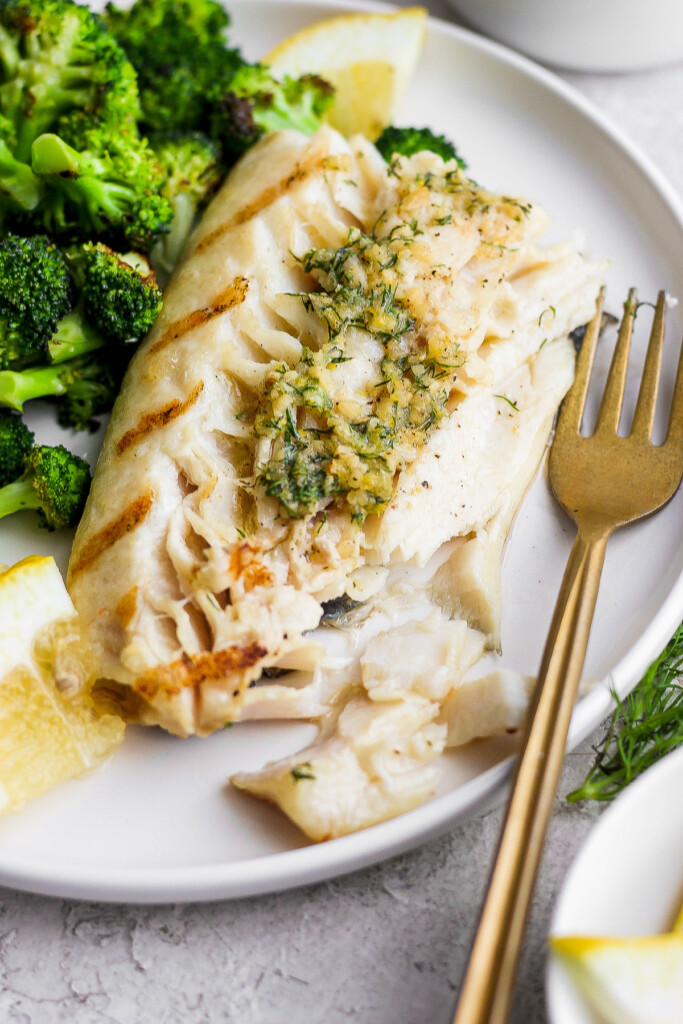 Photography: photos taken in this post are by Erin from The Wooden Skillet.