Are you looking for more ways to incorporate nutritious salmon into your dinner rotation? Look no further than these best salmon dinner recipes you can whip up quickly. Salmon is not only delicious and healthy but is also highly versatile!
1. Turmeric Salmon and Couscous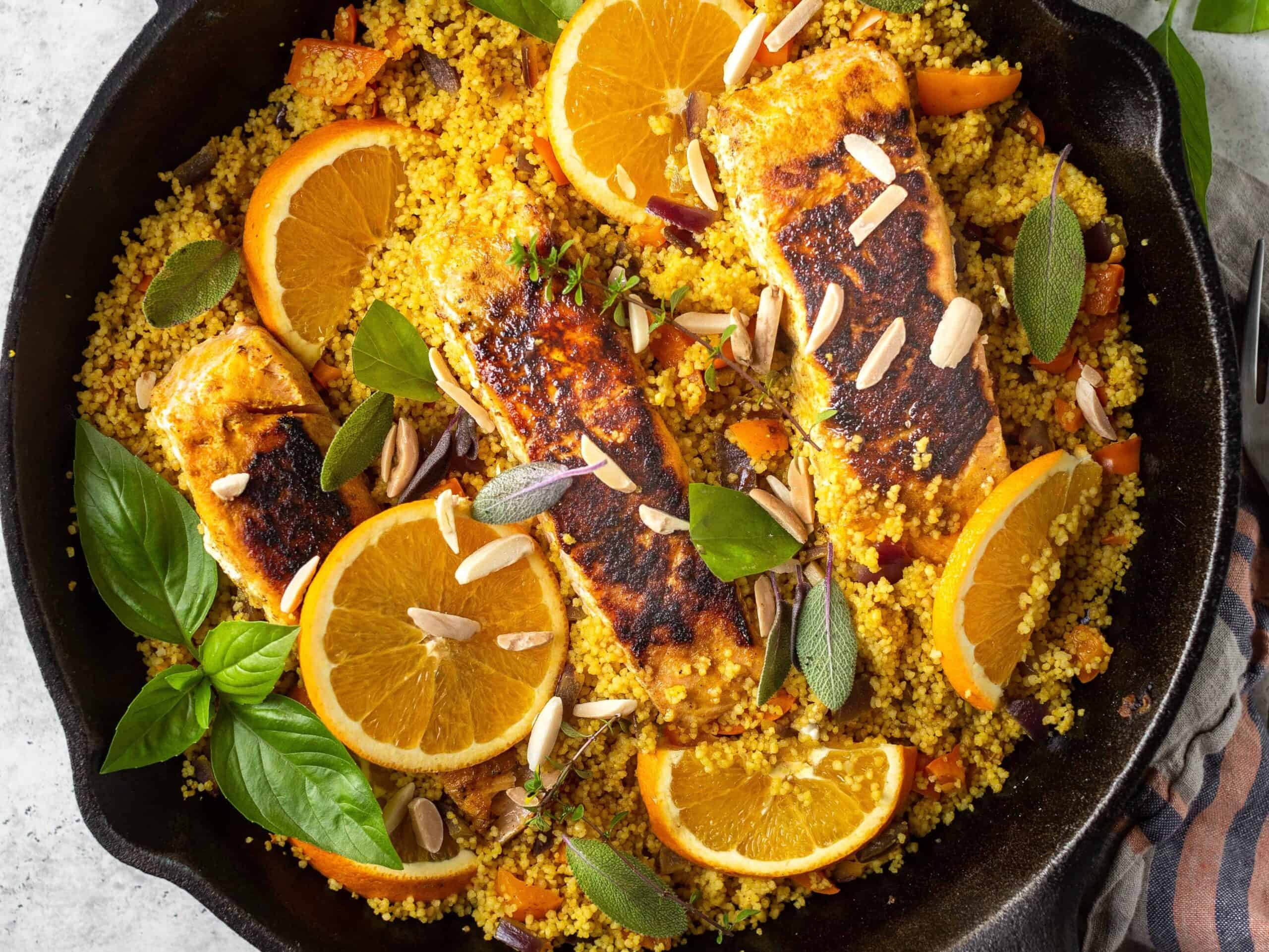 This Turmeric Salmon and Couscous skillet is easy to make on a weeknight but seasonal and tasty enough for company. It is loaded with good-for-you ingredients and ready in under 30 minutes! There are a few ideas for substitutes if you want to make this recipe gluten-free. Get the Turmeric Salmon and Couscous recipe here.
2. Salmon with Avocado Salsa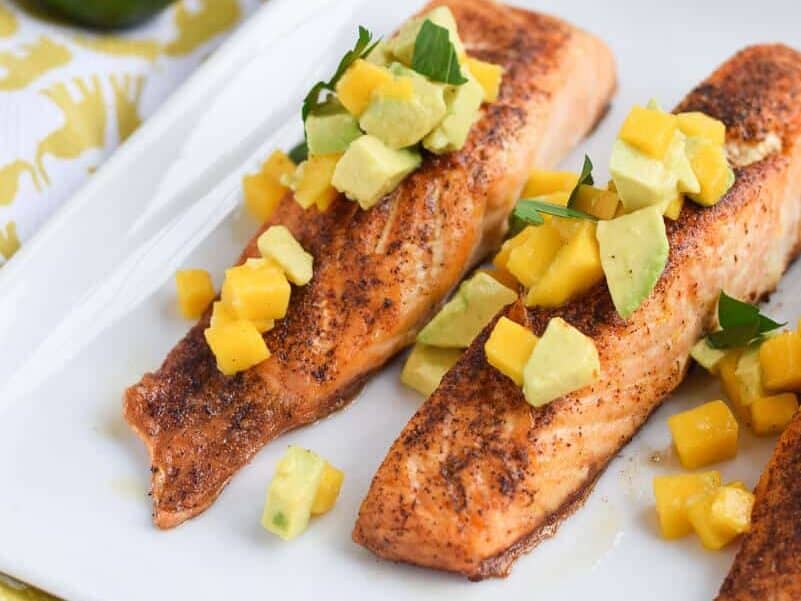 Made with only six ingredients, this Salmon with Avocado Salsa is a whole30 and gluten-free friendly dish! It's full of spice and seasonal ingredients, but it's easy to assemble. Get the Salmon with Avocado Salsa recipe here.
3. Baked Teriyaki Salmon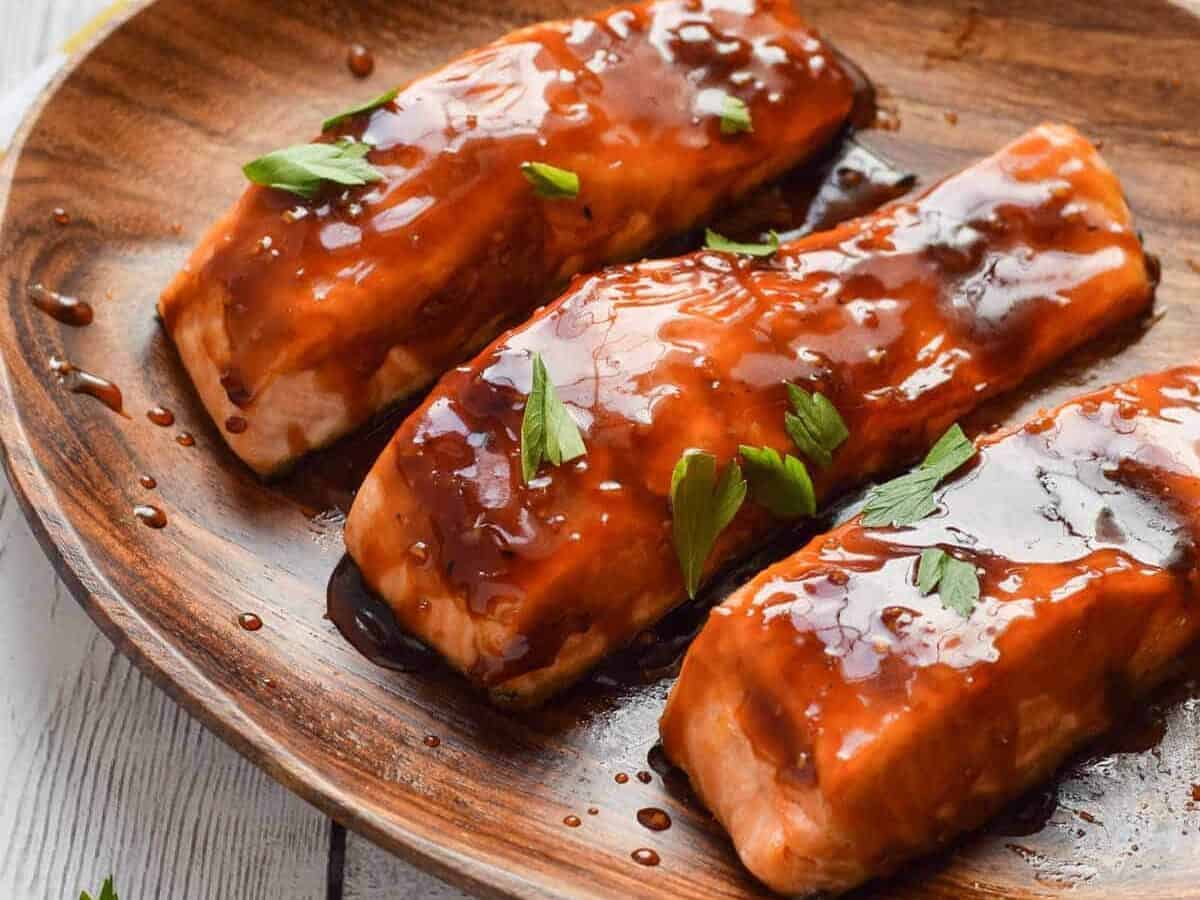 This easy Teriyaki Salmon recipe is flavorful, tender, and absolutely delicious. The 5-ingredient homemade teriyaki sauce makes this easy meal a family favorite, and the whole dish comes together in under 45 minutes. Pair it with your choice of side for a healthy and hearty meal the whole family will love. Get the Baked Teriyaki Salmon recipe here.
4. Salmon Tostadas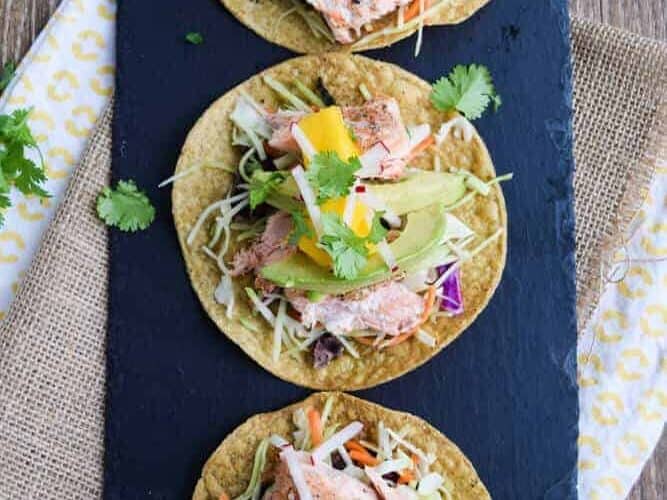 These bright and refreshing Salmon Tostadas are a healthy, hearty weeknight meal made in 20 minutes. It starts with grilling salmon to tender, flakey perfection. Add to a crispy tostada shell, followed by zesty slaw, and topped with fresh mango and avocado slices. Get the Salmon Tostadas recipe here.
5. Sheet Pan Lemon Garlic Salmon with Broccolini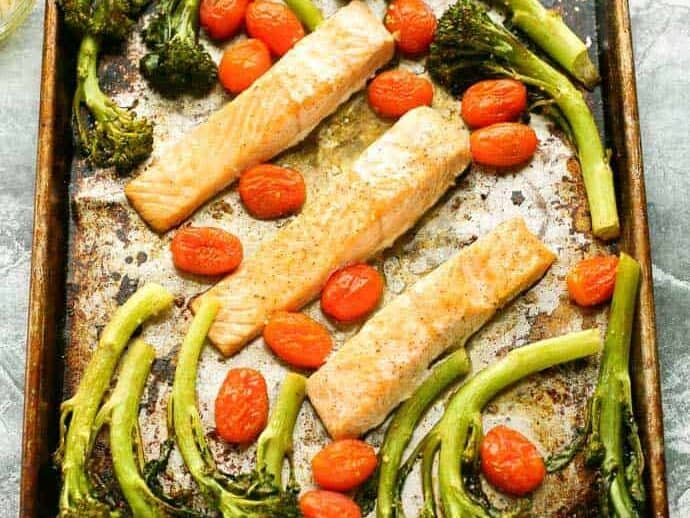 Sheet Pan Lemon Garlic Salmon with Broccolini can be cooked and served on the table in less than an hour. The salmon is covered in a delicious lemon garlic drizzle. This recipe is paleo and gluten-free friendly. Get the Sheet Pan Lemon Garlic Salmon with Broccolini recipe here.
6. Baked Salmon with Black Rice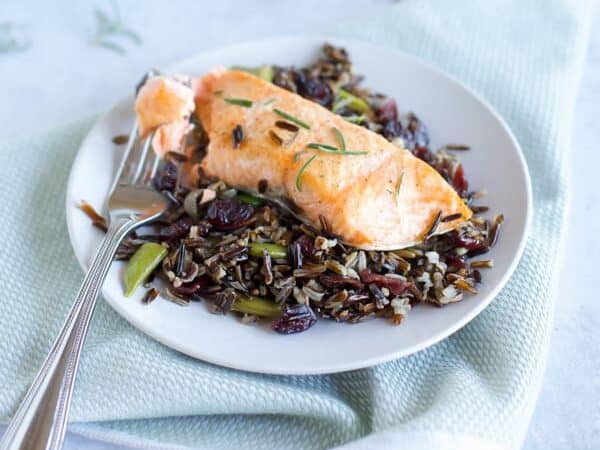 This recipe is easy to make since you can toss it in the oven, and it does all the work for you. This dish is packed with omega-3 fatty acids that are good for the heart. It doesn't hurt that it's delicious, too! Get the Baked Salmon with Black Rice recipe here.
7. Gluten-Free Salmon Piccata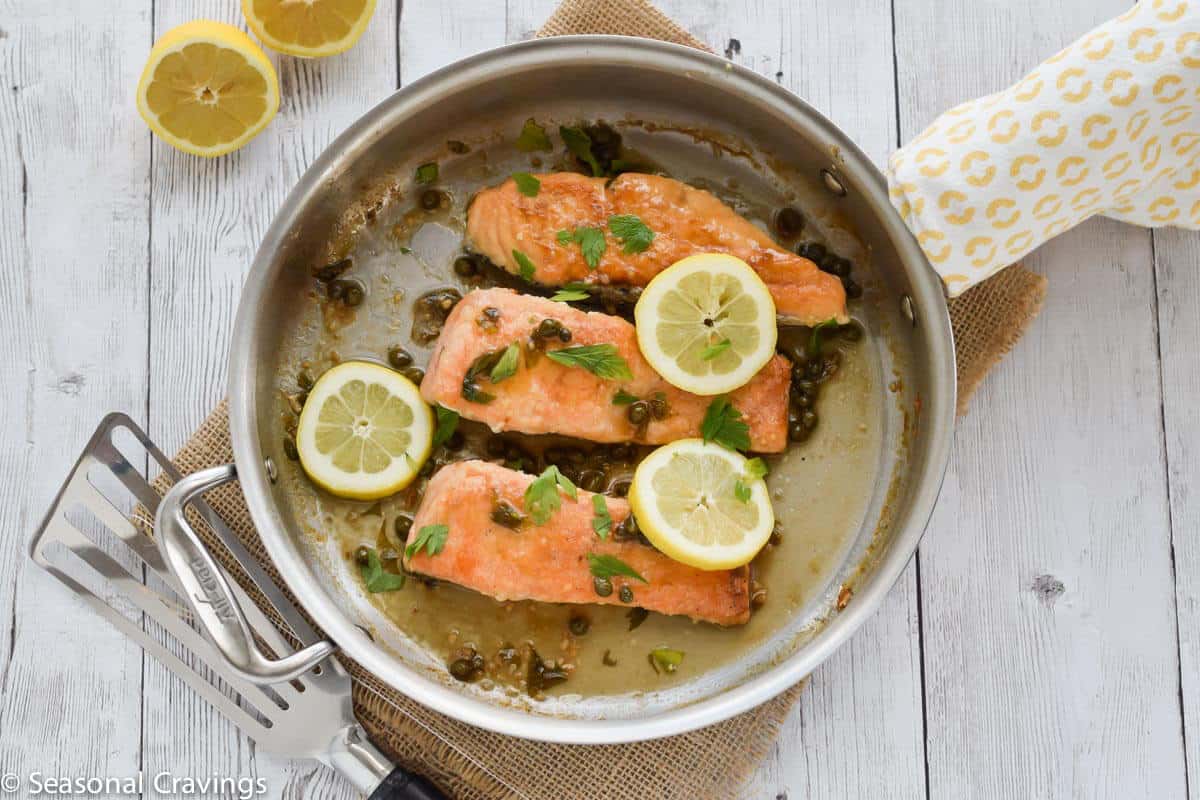 Get a healthy dose of omega-3 fats with this quick and delicious Gluten-Free Salmon Piccata.  This gluten-free dish is fresh, lemony, and salty and comes together in half an hour or less! Get the Gluten-Free Salmon Piccata recipe here.
8. Sheet Pan Maple Salmon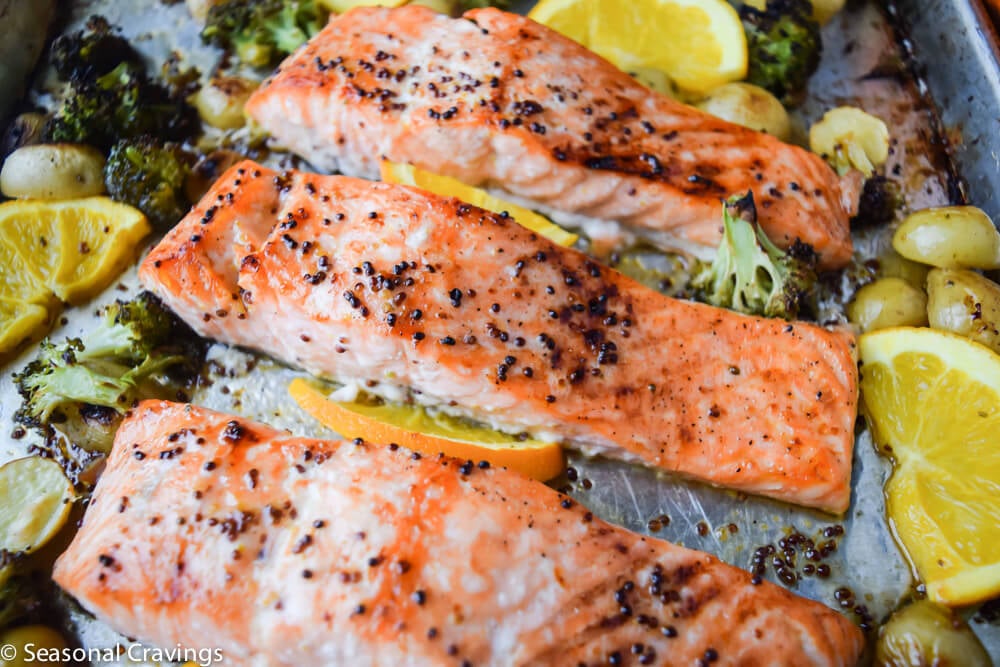 This easy 7-ingredient meal comes together in under 30 minutes. The tender salmon is coated in a sticky maple glaze and cooks on a sheet pan with broccoli and baby potatoes for an easy one-pan dinner. Get the Sheet Pan Maple Salmon recipe here.
9. Sheet Pan Salmon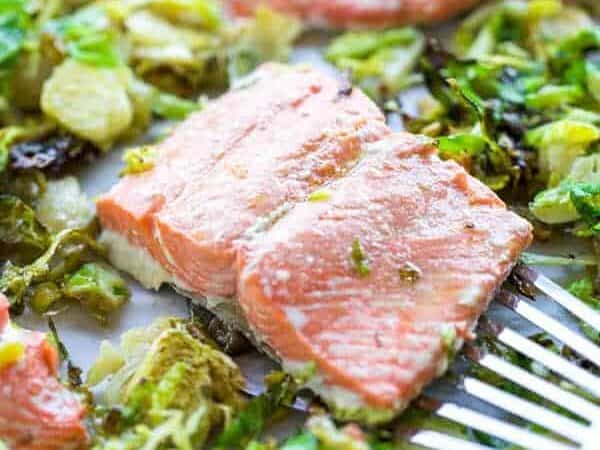 Elevate your usual sheet pan salmon recipe with this delicious lemon-garlic salad dressing. It takes almost no prep, but it's full of flavor.  This recipe is dairy-free, gluten-free, and whole30-friendly. Go to the Sheet Pan Salmon recipe here.
10. Sheet Pan Apple Cider Glazed Salmon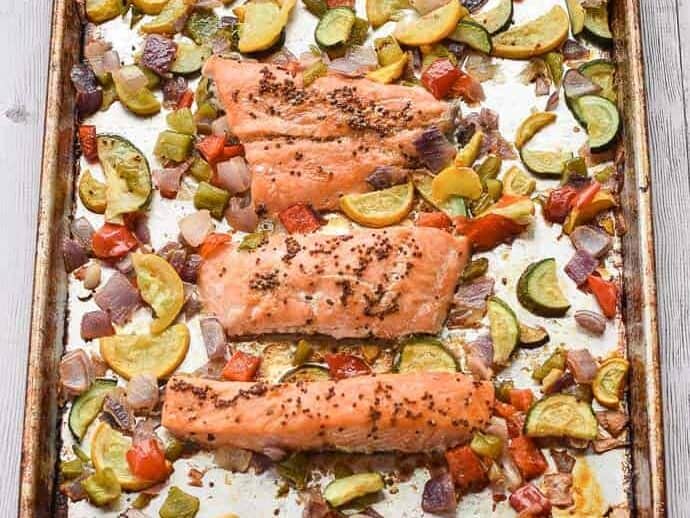 Salmon and apple is such an underrated combination. Try this delicious recipe with the salmon slathered in an apple cider sauce. You'll want to add this to your weekly dinner rotation! Get the Sheet Pan Apple Cider Glazed Salmon recipe here.
11. Traeger Grilled Salmon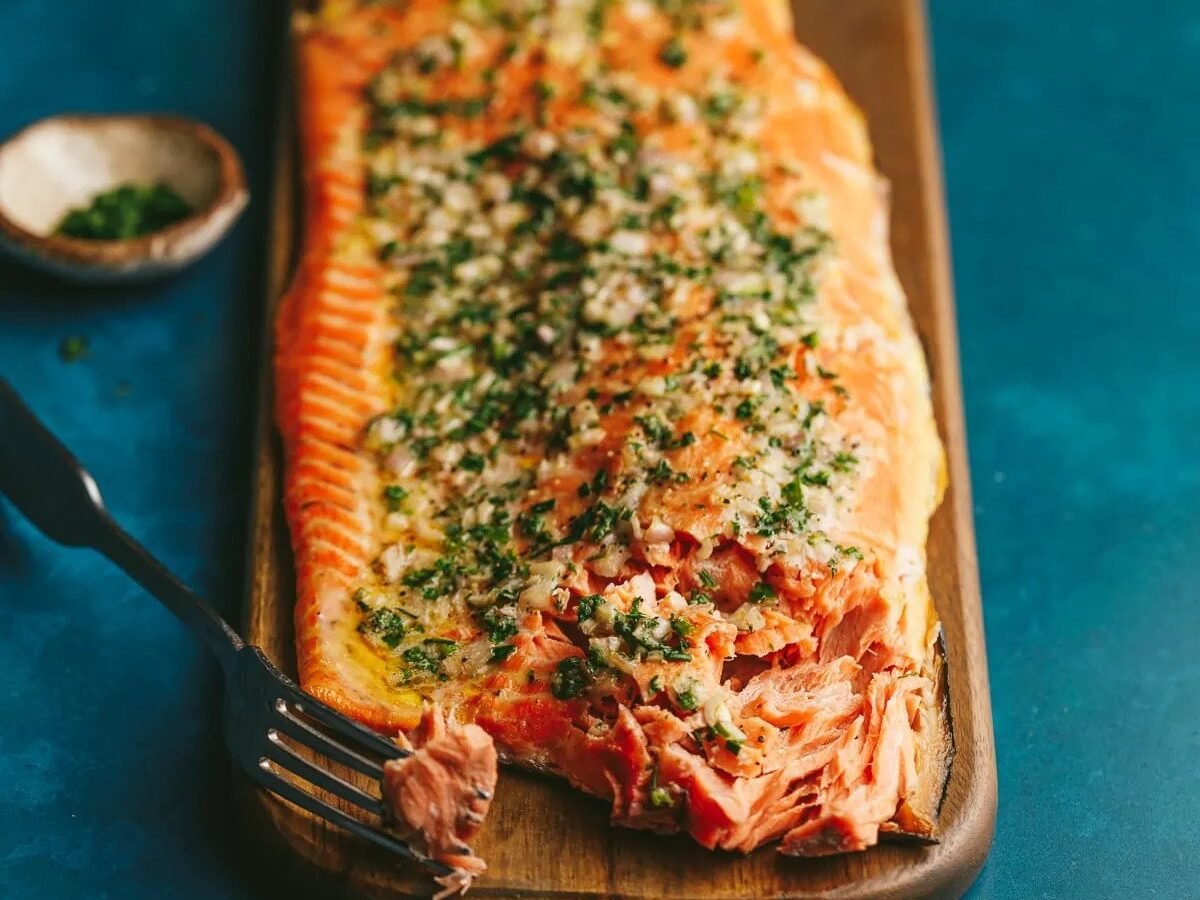 This salmon recipe is slow-cooked on a Traeger grill, ensuring an even cook and a subtle smoky flavor. The salmon meat is topped with a delicious mix of grass-fed butter, shallots, chives, and other seasonings for a perfect balance of flavors. Get the Traeger Grilled Salmon recipe here.
12. Mediterranean Salmon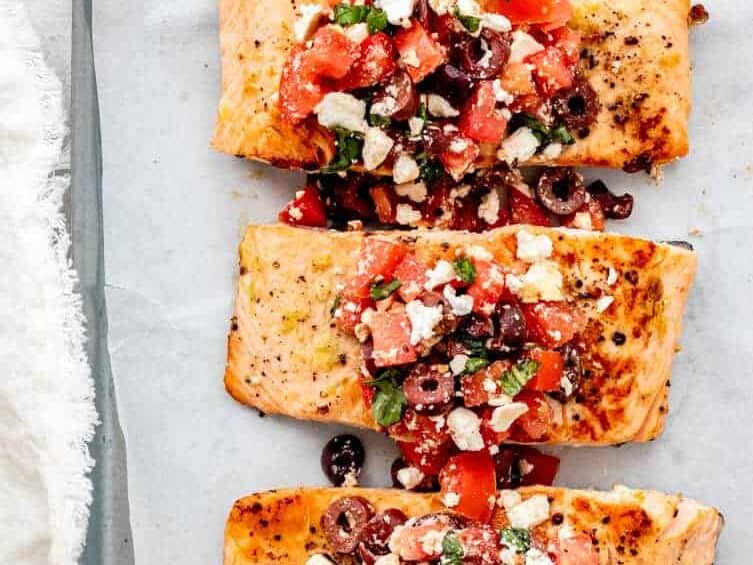 Healthy and pan-fried to perfection, this Mediterranean Salmon recipe will be your new go-to. It delivers in flavor, color, and nutrients. And the best part is it comes together easily, perfect for a busy weeknight. Get the Mediterranean Salmon recipe here.
13. Grilled Salmon Tacos with Strawberry Avocado Salsa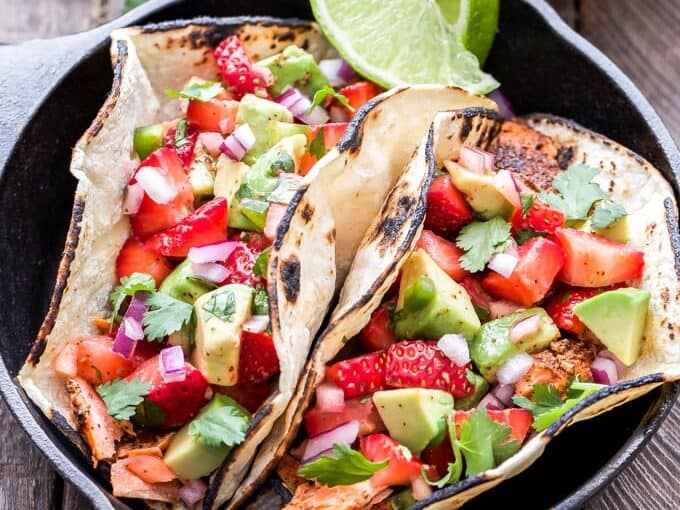 It's grilling season, and these Grilled Salmon Tacos are a must-add to your grilling recipes. It is best paired with sweet, savory, and spicy salsa to create the freshest and most flavorful taco you've ever had! Go to the Grilled Salmon Tacos with Strawberry Avocado Salsa recipe here.
14. Salmon Asparagus Pasta Salad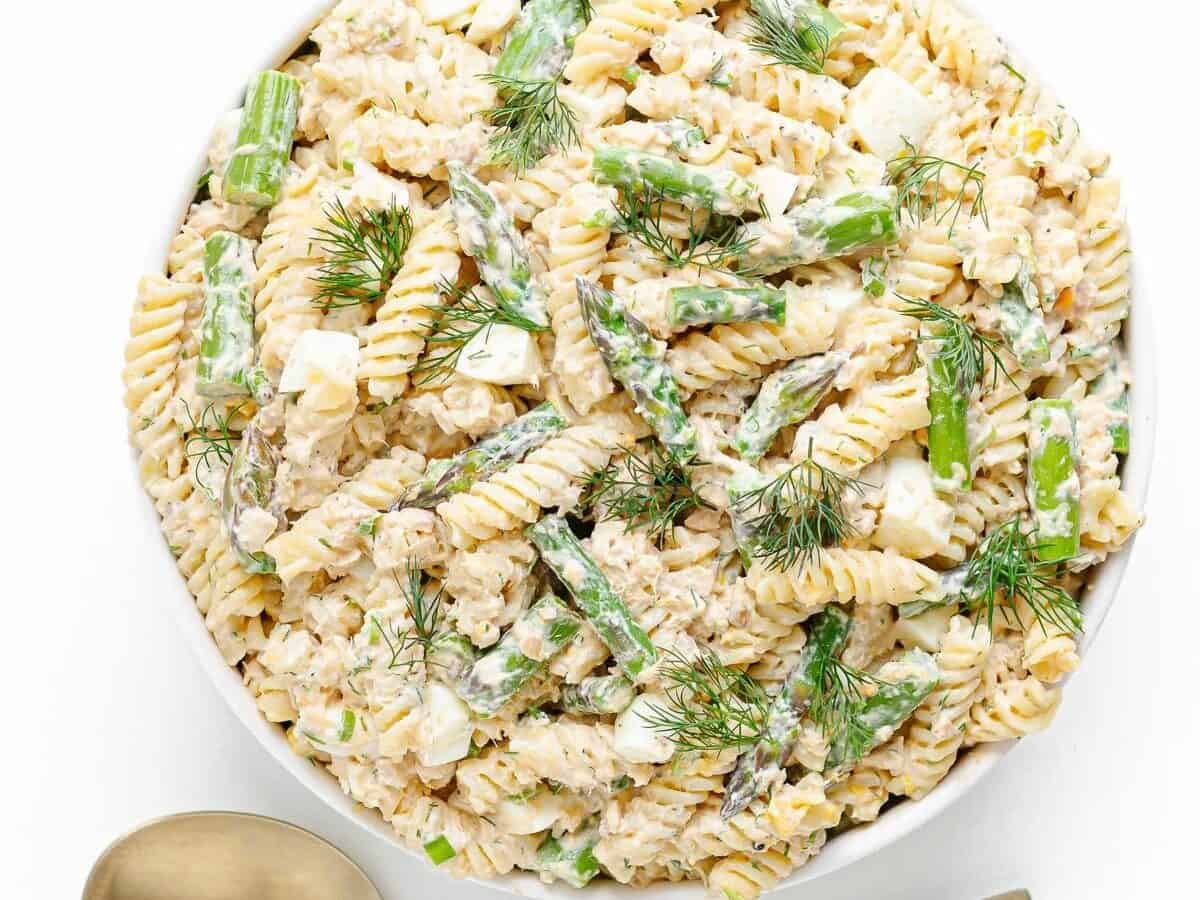 Loaded with fresh asparagus, canned salmon (or fresh!), hard-boiled eggs and pasta tossed together in a creamy lemon dill dressing. This recipe is absolutely delicious, easy to make and sure to become a new spring/summer fave! Get the Salmon Asparagus Pasta Salad recipe here.
15. Honey Garlic Salmon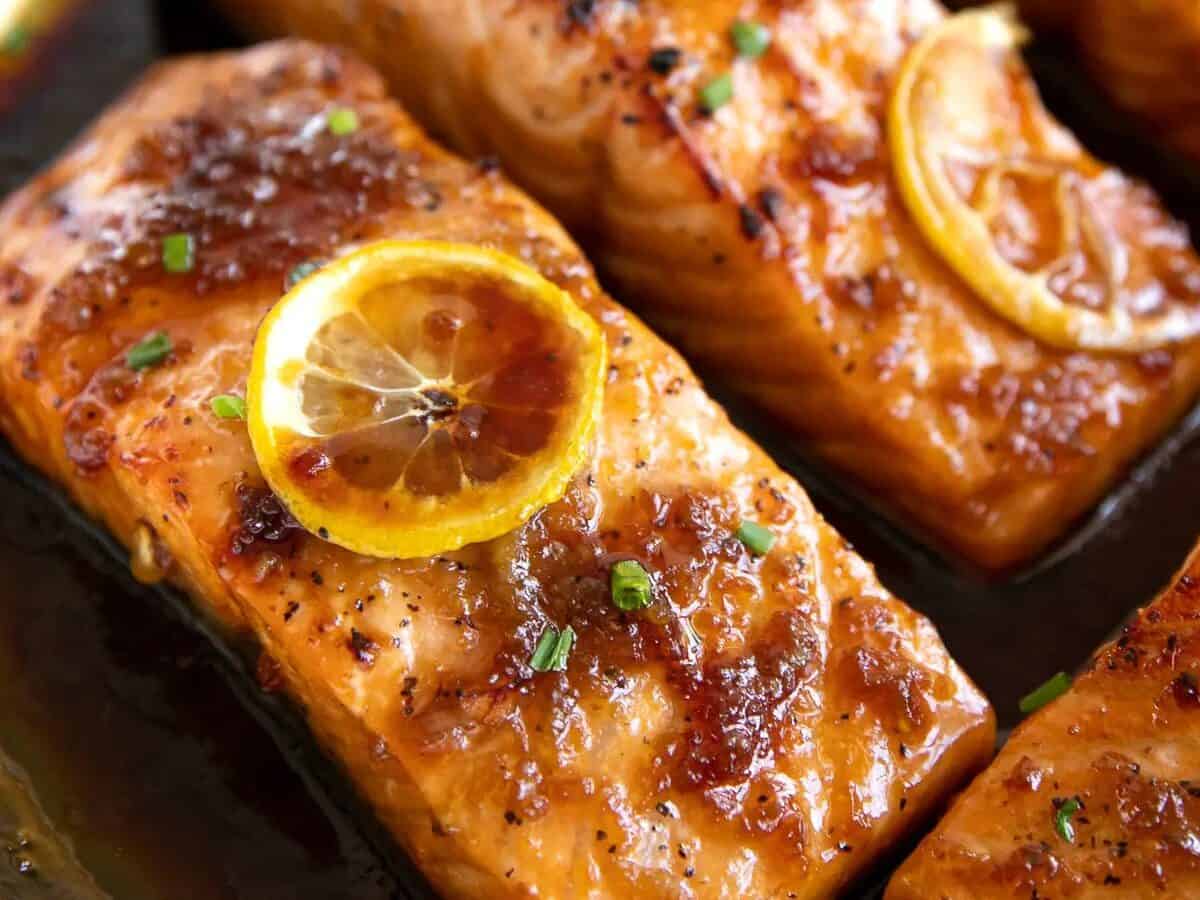 This quick and easy Honey Garlic Salmon Recipe is made with flakey salmon fillets cooked in a mouthwatering 5-ingredient honey garlic sauce. Cooked in one pan and ready in just 20 minutes, you'll love everything about this sticky sweet, and garlicky salmon dinner. Get the Honey Garlic Salmon recipe here.
16. Salmon Stir Fry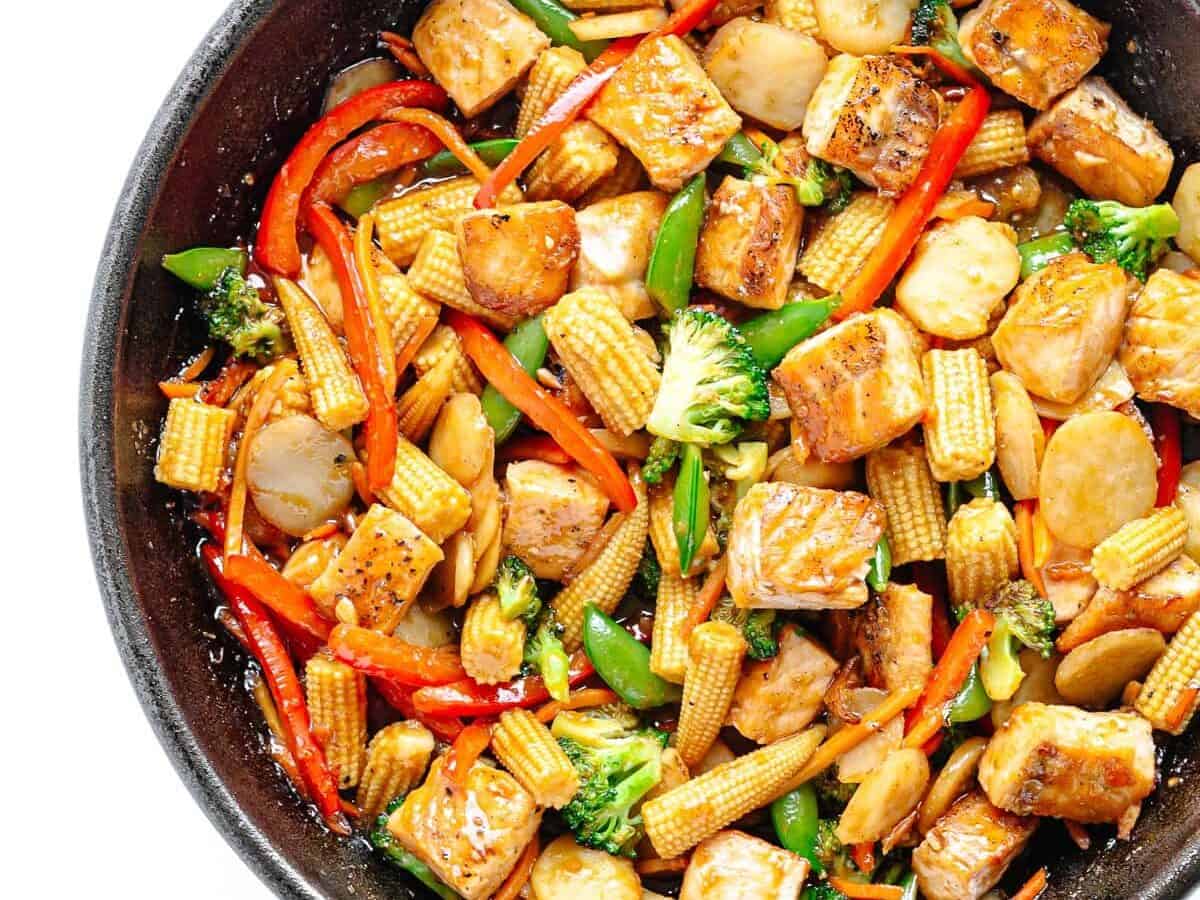 Loaded with veggies and salmon tossed in a delicious homemade stir-fry sauce. A quick and healthy weeknight dinner idea – ready in under 30 minutes! Get the Salmon Stir Fry recipe here.
17. Soy Ginger Salmon Rice Bowl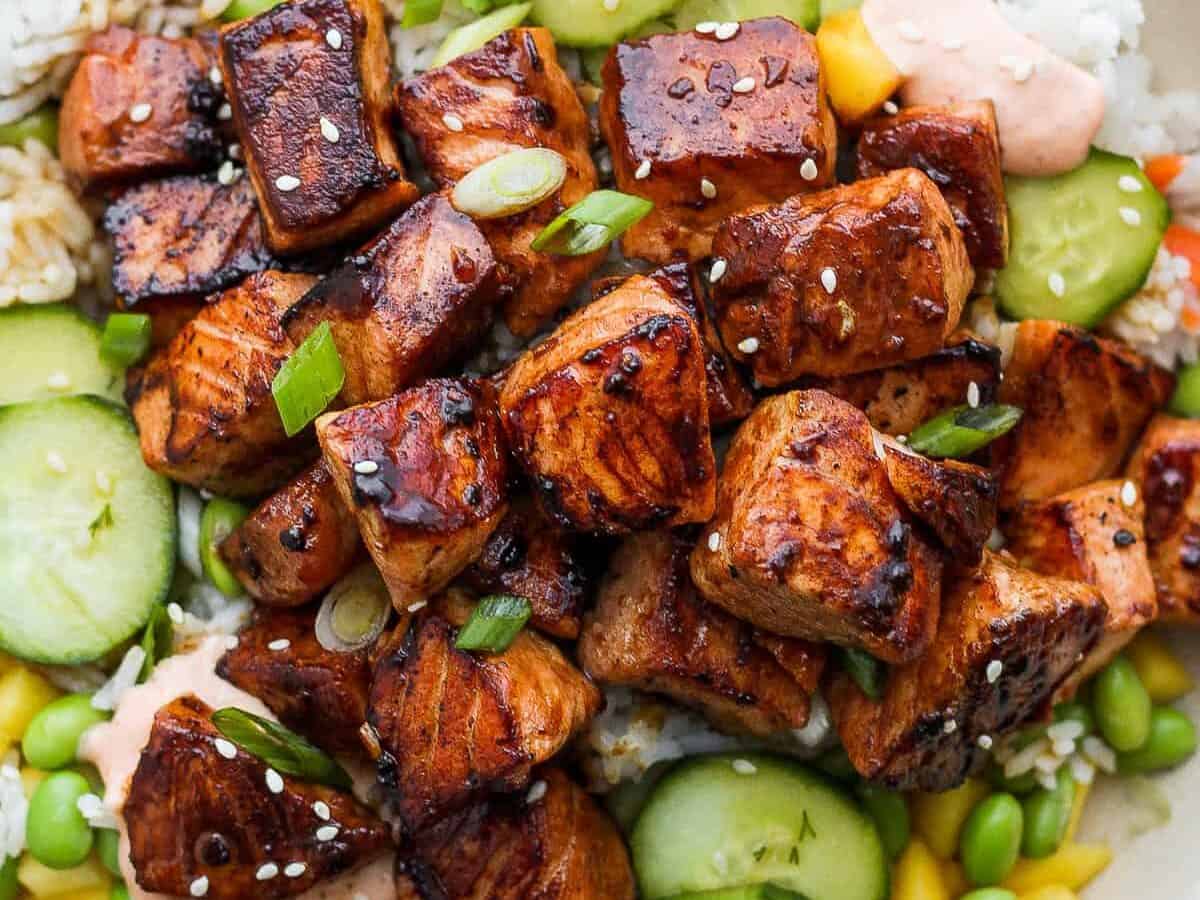 It tastes as delicious as it looks, folks. And the best part is that this sweet and savory dish comes together in less than an hour, making it a perfect weeknight meal with enough flavors to please everyone. Get the Soy Ginger Salmon Rice Bowl recipe here.
18. Blackened Mexican Salmon with Lime
This Mexican Salmon is flavored with lime and an aromatic blackened spice crust made of Ancho chile, garlic, onion and oregano. It's super easy for a busy weeknight and very impressive for a weekend dinner party. Get the Blackened Mexican Salmon with Lime recipe here.
19. Glazed Chipotle Orange Salmon
Fast and easy to make, this recipe is the perfect way to make something new, unexpected, and delicious. The spicy and sweet balance works well with the salmon. Get the Glazed Chipotle Orange Salmon recipe here.
20. Air Fryer Salmon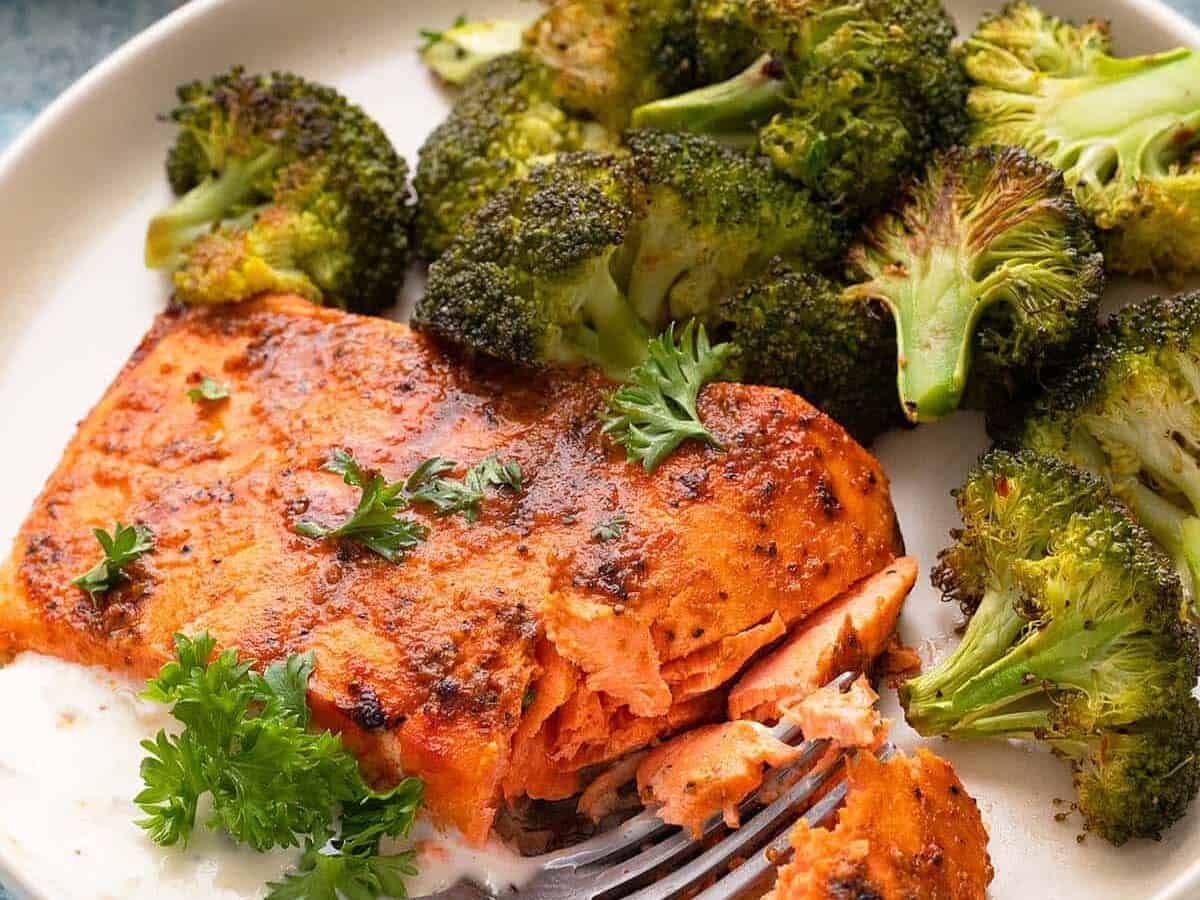 This recipe makes a crisp and moist fillet with a flavorful blend of spices. It's a low-carb, low-calorie, healthy recipe that takes 10 minutes to make, is quick and easy, and pairs well with many sides! Get the Air Fryer Salmon recipe here.
21. Viral TikTok Salmon and Rice Bowl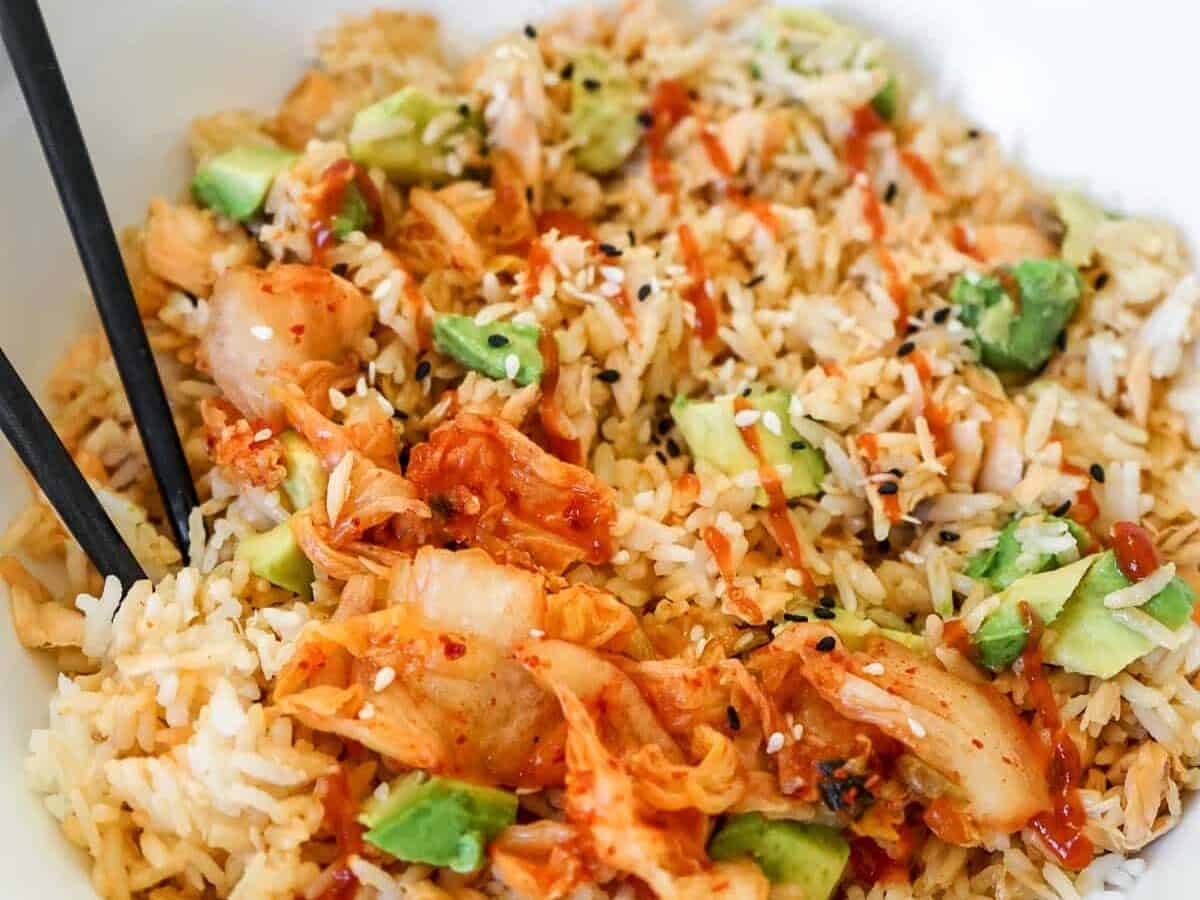 This recipe is inspired by the viral recipe video of Emily Mariko on TikTok. Beit is worth – and lives up to – the hype! And the best part is you can use this recipe if you have any leftovers! Get the Viral TikTok Salmon and Rice Bowl recipe here.
22. Smoked Salmon Avocado Toast
Try this recipe with your salmon, as it incorporates wholesome ingredients. Indulge guilt-free with the super delicious, fresh-tasting, and elegant smoked salmon. Get the Smoked Salmon Avocado Toast recipe here.
23. Pesto Crusted Salmon
This simple and delicious cream cheese and Pesto Crusted Salmon has a crispy Panko topping and takes less than 30 minutes to make! It works perfectly as a quick and easy weeknight meal but feels special enough for a dinner party or special occasion. Get the Pesto Crusted Salmon recipe here.
24. Salmon Kale Caesar Salad
Caesar salad is made with kale and topped with delicious pan-fried salmon. Top with freshly grated parmesan, croutons, almonds, and Caesar dressing. Impress your dinner guests with this healthy meal. Get the Salmon Kale Caesar Salad recipe here.
25. Teriyaki Salmon Stir Fry
Salmon stir fry is a healthy, delicious meal packed with fresh vegetables, high in protein and heart-healthy fatty acids. Best of all, it takes just 30 minutes to get this delicious dinner on the table! Get the Teriyaki Salmon Stir Fry recipe here.
12 Inexpensive Dinners To Make On Repeat
Who says inexpensive dinners have to be bland and boring? Prepare to indulge in the most delicious dinners without breaking the bank. Check out these 12 inexpensive dinners and see which ones you can make this week. Your family will thank you! Get the recipes.
15 Insanely Delicious Pork Tenderloin Recipes
Pork tenderloin is often overlooked for easy weeknight dinners, but it's perfect in the weekly rotation. When cooked correctly, the result is a tender and juicy piece of meat that takes on whatever flavors you desire. It is super versatile and makes great leftovers for lunches throughout the week. Add it to a salad, a grain bowl, or a sandwich, or cook it up in a quesadilla. Get the recipes.
26 High Protein Recipes for Weight Loss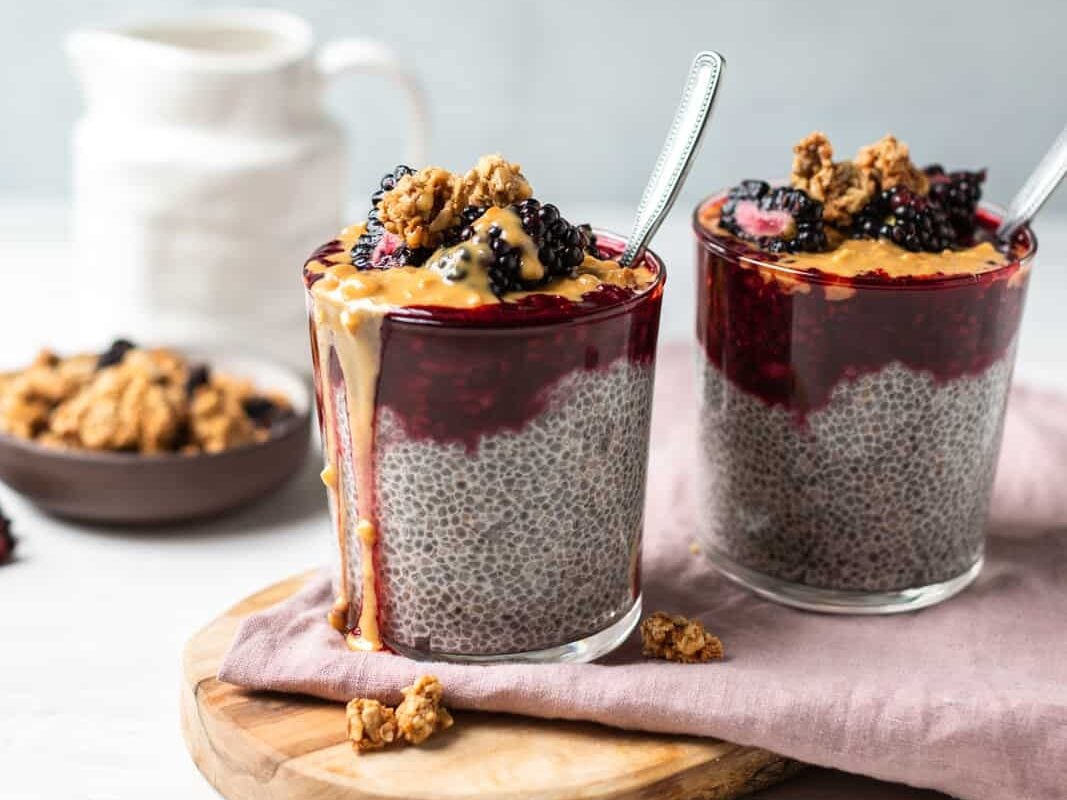 Losing weight is a common goal for many people, but it can be difficult to know where to start. One effective strategy is to add more protein to your diet. Protein helps to keep you feeling full and satisfied, which can help you consume fewer calories overall. It also helps to maintain muscle mass while losing weight, which is important for overall health. Get the recipes.
21 Delicious and Easy Seasonal Salads
Welcome to a world of fresh greens, colorful vegetables, and delicious dressings! Salads are versatile and nutritious meal options that can be enjoyed any time of the day. Whether you're looking for a quick lunch on the go or a refreshing dinner on a warm summer night, salads are a perfect choice. Get the recipes.
14 Family Dinner Recipes You'll Make on Repeat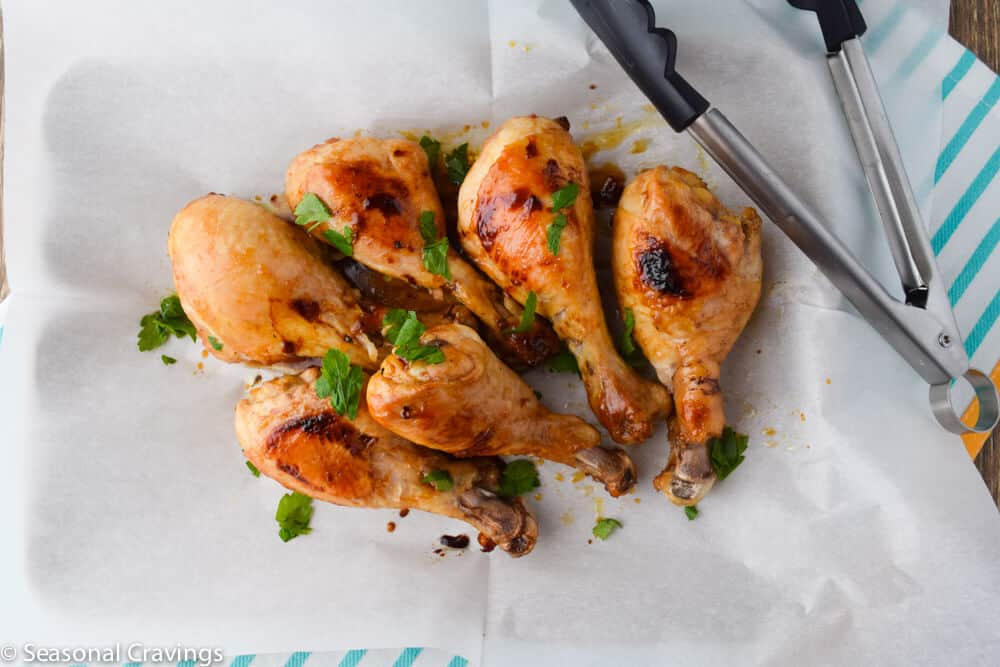 Dinnertime is here again, and I've got some easy, family-friendly recipes the gang will love. I like having a handful of easy recipes I can make at the last minute for weeknight and weekend family wins. I hope you find a new favorite recipe here! Get the recipes.